Cuddle + Kind, makers of some of the most heart-warming and adorable hand-knit dolls around, is a family-owned company with a loving, family-focused approach from start to finish. They've created an ethical and responsible process that ensures sustainable and nourishing practices at every level, from the fair-trade crafting of the dolls to their "1 doll = 10 meals" purchase program.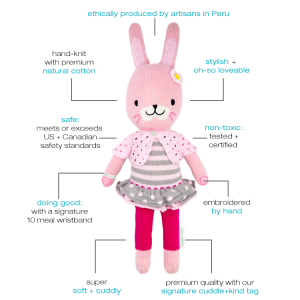 These gorgeous dolls are produced by hand by artisans in Peru, providing 100 women with fair-trade jobs. And Cuddle + Kind has partnered with the World Food Program, the Children's Hunger Fund, and orphanages in Haiti, to transform a portion of their profits into meals for children in need around the world.
Cuddle + Kind advertise that from September 2015 to March 2016 they provided over 200,000 meals. But their ambition is to eventually provide 1 million meals each year.
Each of the 9 dolls on offer is more painfully cute than the last, and they come in 2 sizes, "little" for $45 and "regular" for $65. Each bunny also has a cute name and an endearing short story. Check out this blurb from the bespectacled "Benedict the bunny":
"I'm always chewing on things – in my mouth and in my brain! Learning new things is so much fun, and because I'm so curious, it happens by accident all the time. It would be the coolest thing ever if we could be best friends and find out how everything works together."
Benedict's favorite quote? "The meaning of life is to give life meaning."
Even if there are no toddlers in your life, it's truly a joy just to peruse the Cuddle + Kind website, read the endearing blurbs, and grin at all the adorable pictures of happy babies playing with the dolls. And of course, the Woodgate family's mission of feeding children around the world is present throughout the whole story. It's clear that they are motivated by this mission at every step of the way.
Finally, each doll wears a signature "10 meal" wristband, a reminder of the good that this doll has done for other kids, and a great conversation-starter to start talking to your own kids about the experiences of other children and the need for help around the world.
Check out this video from the company to hear the story straight from them: