Austin, TX-based Kammok makes high-tech hammocks, blankets, and other camping gear. They are a certified B-Corporation and a member of 1% For the Planet. B-Corp certification means that they are a for-profit company verified to have sustainable and transparent business practices, and 1% For the Planet membership means that 1% of all profits are donated to a philanthropic cause.
Through 1% For the Planet, Kammok partners with Ubuntu (also based in Austin), a philanthropic organization that does community development in Kenya. Ubuntu is the largest employer in a city of over 60,000 people in Kenya, where they focus on "five specific needs: Education, Environment, Economy, Health and Community." Check out Ubuntu's website for more on their mission and the work they do.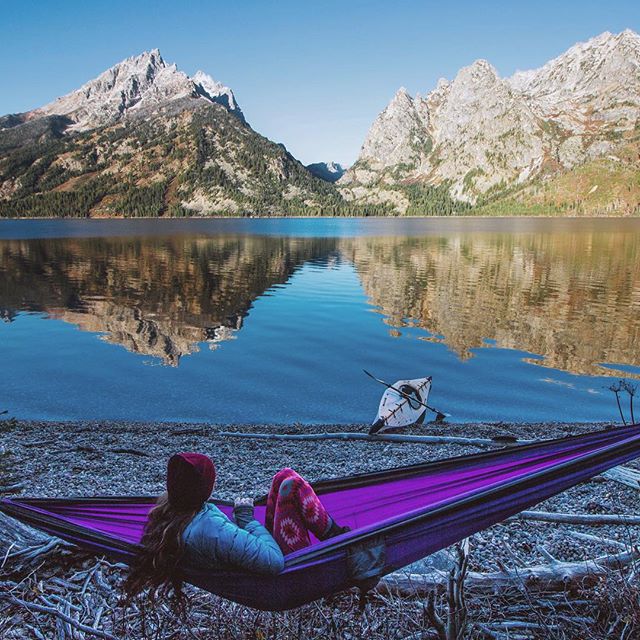 The main offering from Kammok is the Roo, their durable, versatile hammock that comes in a huge array of colors. For all the uses of the Roo, check out this video from the company:
At around just $20, these hammocks are super affordable, and they get great reviews from campers — Kammok calls it "The World's Best Camping Hammock," and customers seem to agree! Reviewers say the hammocks are easy to set up and easily fold up very small for packing away. The Roo is made out of parachute nylon fabric.
Kammok also offers various other camping gear items, such as insect nets, weather shelters, carabiners, suspension straps, sleeping bags… and trucker hats, in case you need one of those. For each product, their website offers a pretty thorough explanation of the high-tech materials and construction they use. Because why go into nature with anything less then the most advanced modern equipment?
Kammok products come with a lifetime warranty, and the company promises to recycle the product for you when it's worn out (eventually).
Like any good outdoors brand, they also have a pretty good Instagram account worth checking out.