Every parent that I know is familiar with Sophie the Giraffe. This toy is incredibly popular. I'm not sure if one of the reasons for its popularity is because of the creator's environmental conscious or simply because it is a great toy. Either way, the makers of Sophie have a very strong environmental compass.
Vulli was created in 1945. In the early days, the brand specialized in mechanical toys. Over the years, Vulli has become a specialist in the world of baby care and early learning toys.
Sophie the Giraffe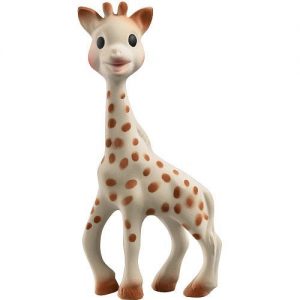 Vulli is based in Rumilly.  The small community is in the Haute-Savoie region of France.  Maybe being based in a small community in the middle of the Alps has lead to the company's strong sense of sustainable development issues. Their commitment is displayed through what the company does, says and makes.
Sophie the Giraffe is made of 100% natural rubber. The rubber comes from the Hevea tree growing in sustainable forests. The plaster used for the manufacturing of Sophie is sorted separately and recycled in the plasterer industry. The waste plastics, scrap metal, and boxes created in the manufacturing process are set aside for recycling.  The company is currently studying recycling of all rubber waste.
Vulli is also conscious of sustainability in the communities where they operate.  A hedge of fifteen different species was recently planted in partnership with the city of Rumilly.  Beehives were scheduled to be installed in 2015.  These acts are being implemented to help preserve biodiversity in the area.
Sophie is not the only product that Vulli Makes.  They also make a number of other baby teething toys derived from rubber including the following: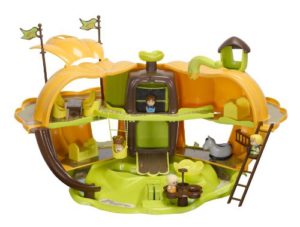 A different style of toy that Vulli produces is the Magin Pump'kin Doll House. This product is in their Klorofil brand of toys. Each toy comes with a sticker and poster set to introduce children to sustainable development and to encourage them to preserve our planet.  The poster is an interactive board of small stickers identifying eco-friendly practices. What a great way to introduce kids to sustainability ideas.
I'd be interested to learn more about this line of products.  I wonder what materials are used in its production?  I was unable to find that information.
Are you familiar with products from Vulli? Do you have Sophie the Giraffe? Let us know what you think in the comments!