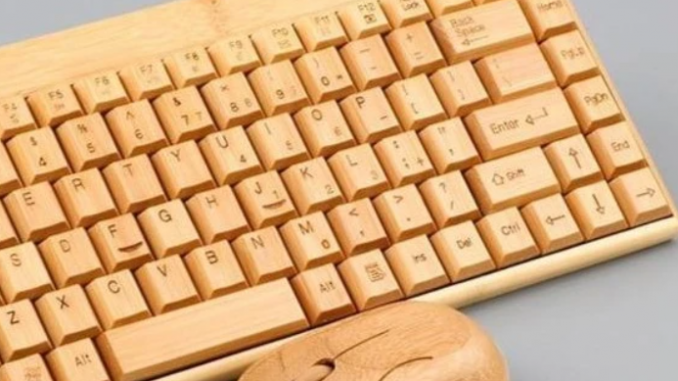 Now that many professionals are working from home due to the Covid-19 pandemic, it might be worth looking into sustainable alternatives to traditional office supplies. From staplers that do not require staples to solar USB chargers, here are great eco-friendly home office products so you can start to build your own green home office:
If you want to ditch plastic keyboards and the mouse, you should definitely check out these products by EcoRabbit. The company presents them as "the most enviro, environmentally-friendly Keyboard and Mouse ever made" from bamboo wood. The material feels good on your fingers due to the carved symbols on the buttons and the warmth of bamboo.
The keyboard and mouse are wireless and waterproof, so you do not have to worry about tangling wires or damaging your equipment. Besides, they make less noise than their plastic counterparts.
Tomato Ink is a company devoted to reducing the carbon footprint of ink and toner cartridges. They partner with Eden Reforestation Projects and sell recycled cartridges refilled with ink. Besides being good for the environment, these cartridges are up to 80% cheaper than new ones.
At TomatoInk.com you can find these recycled cartridges compatible with the main printing brands (Epson, Brother, HP, Canon, etc.), with a 1-Year 100% Satisfaction Guarantee. If you have no other option but to print documents at your home office, this is the most eco-friendly alternative for you!
A great alternative to minimize your energy usage at home (and your electricity bill) is using solar USB chargers for your devices. The Freeloader Solar Supercharger 5W is a great option. It charges a diversity of electronic devices, such as smartphones and tablets. It is also portable and adaptable, so you can use it at home and carry it with you when travelling. This product is also lightweight, and it works in all daylight conditions. You can use it from a wide range of temperatures – from -20°C to +60°C –, and it has an elegant design.
If you are thinking about ways to cut waste in your home office, quit using staples! There are now great staplers that allow you to bind paper together without using (and therefore waste) staples. The brand Kokuyo has many of these products available in various colours and for different paper quantities.
Cutting back on using staples is one of the simplest and easiest ways to make your home office an eco-friendly place.
If you really must use paper in your home office, then you must choose recycled paper. The company Green Line has a large recycled paper selection to fit your stationery needs. The paper is  100% Recycled Fibers and 100% Processed Chlorine Free. The product is EcoLogo Certified and also Certified FSC Recycled.
By using recycled paper, you will contribute to saving trees and water consumption and reducing waste and air emissions. Considering how much paper is used by offices worldwide, a recycled alternative can make a huge difference.
To organize your paperwork and key documents, you can also choose a recycled folder option. Eco-craft, a company based in the UK, has great products that you can buy in bulk. The folders are made from post-consumer waste materials sourced from the UK and the EU. The products are recyclable themselves. They are also suitable for printing, and they do not require glue.
These folders are a simple and eco-friendly solution to organize your documents at home!
A great way to minimize your energy costs at home is to use LED light bulbs. The brand Green and Co. has excellent packs of 10 light bulbs that are ideal for workspaces. Their products use up to 85% less energy than normal light bulbs and are mercury-free. Plus, they are made to last a lifetime.
In short, they are the ideal solution for both the environment and your budget.
The Eco Pen Club has a variety of pens and highlighters using recycled paper and plastic materials.  The products are compostable and recyclable, so they came as close to a zero-waste pen as possible. They come in different colours and look great, so they are a fantastic alternative to traditional, wasteful office pens.
Plus, the Eco Pen Club is also committed to going carbon neutral, so by buying one of these pens, you will be contributing to energy projects in developing countries. For every order, the Eco Pen Club also donates a tree to their partners, One Tree Planted. These pens are a must-have of eco-friendly home office products!
Now that we have shown you so many eco-friendly office supplies, the only thing we are missing is sustainable furniture! Fully is a B-Corporation specializing in office furniture and committed to sustainability. Fully sells desks, chairs, storage and lounge products, as well as a wide array of accessories.
Their products look great and are made from sustainable sources, such as bamboo wood and recycled materials. If you are looking for an elegant and eco-friendly option to furnish your home office, Fully is one of the best brands you can choose.
 We hope you have enjoyed our selection of eco-friendly home office products. If you would like to discover more eco-friendly alternatives to the products that you love, make sure to check out our blog and discover great articles such as 7 Eco-friendly Bathroom Products and 8 Eco-friendly Global Brands Making Awesome Hats.
You can also check out our article about being a more eco-friendly remote worker to know about daily habits that can help you avoid waste and save energy at home.
Enjoyed this post? Pin it!