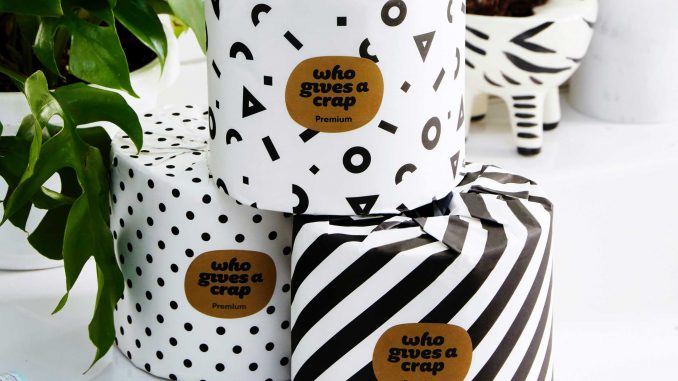 For most people, bathroom products are synonymous with waste: whether we are talking about razors, toilet paper or cleaners, most people will simply discard it. However, there are now many alternatives that can help us make smart and sustainable purchases for our bathrooms. With these 7 ecofriendly bathroom products, you will discover how you can avoid waste without sacrificing cleanliness, comfort or design!
Who Gives a Crap is a brand passionate about ecofriendly sanitation and hygiene. It offers you two ecofriendly toilet paper alternatives. There is the 100% Recycled Toilet Paper, which only uses recycled materials. It is a more affordable option and help to reduce deforestation.
But Who Gives a Crap also sells the Premium 100% Bamboo Toilet Paper. This product is made sustainably sourced bamboo fibers, therefore it also helps to reduce deforestation.
Who Gives a Crap's shipping is carbon neutral and they are a B CORP certified for environmental impact. They also donate 50% of the profits to charities focused on water, hygiene and sanitation. Who knew choosing the right toilet paper could make such a difference?
Another great ecofriendly bathroom product is the EcoRoots razor for women, which consists of a plastic-free alternative to disposable razors. It has double-edged blades, and it is great for a super close shave. The product comes in recyclable packaging with five free blades. You can use it if you have normal to sensitive skin.
This is a handmade product which you can buy on Etsy. It has a high-polish finish to ensure it can be protected from corrosion. The EcoRoots shop also offers advise on how to take care of your razor and blades so that it can last much longer. It is a great investment that will allow you to significantly reduce razor waste.
Under the Canopy is an ecofriendly brand that sells fantastic towels and rugs sets made from GOTS Certified Organic Cotton. All the products come in many colors, so you can choose whichever works best with your home.
All the products are chemical free, benefiting the environment and the skin. The manufacturing process also saves up to seven bathtubs of water. Plus, Under the Canopy makes sure to support worker welfare, and also invest in community development. So using their products leads to both an environmental and social impact.
Besides being an environmentally conscious brand, Under the Canopy's products have an elegant and smart design. These towels and bath rugs will surely be a great ecofriendly addition to your bathroom and daily life.
Ethique is a brand that asks you to #GiveUpTheBottle and instead use solid shampoo bars to replace the traditional plastic liquid shampoo bottles. These are one of the most ecofriendly bathroom products you will find.
The Solid Shampoo Bar Pinkalicious is the equivalent to three bottles of liquid shampoo. By choosing this shampoo bar, you will be saving up to 2.7 liters of water. This shampoo bar is also vegan, 100% compostable and zero waste.
Every year, Ethique donates up to 20% of profits to charities fighting for environmental issues. Besides shampoo bars, they also have many other personal care products, from body lotions to moisturizers and conditioners.
The products look great, and you will find that solid shampoo bars are just as effective as regular liquid shampoo.
Dr. Bronner is a historical brand with a track record of sustainable and ecofriendly practices. The Peppermint Pure-Castille Bar Soap has a scent of organic peppermint oil, which helps to cool the skin and clear sinuses. The soap is made with fair trade and organic ingredients, including hemp oil grown in the US. This ensures the soap will not dry the skin.
The soap is also 100% biodegradable, vegan, and it comes in a recycled wrapper. The soap is versatile, so you can use it to clean your hands, face, and body.
Besides bar soaps, Dr. Bronner also sells many more personal care products, such as toothpaste and balms. Their products are definitely worth knowing more about!
If you are looking for an ecofriendly alternative to clean your toilet, EcoMax has an excellent product for you to discover. The EcoMax Disinfecting Toilet Bowl Cleaner is a triple-action product that can kill up to 99,99% of Salmonella Enterica and Staphylococcus Aureus bacteria. The product is approved by Health Canada and it has a great scent due to the natural oils derived from tea tree leaves and lemongrass.
With this natural disinfectant, your bathroom will be totally cleaned and also with a pleasant smell. It has a plant-based and sulfate-free formula; therefore, it ensures a safe disinfecting experience.
You can use this disinfectant of a variety of surfaces, ranging from ceramic to stainless-steel. Therefore, you can also use it on your bathtub, shower stall tiling and grout.
If you are looking for an ecofriendly alternative to all those discarded baby wet wipes, then the brand Mum & You have the perfect product. These baby wet wipes are 100% biodegradable. The baby wipes are made from PEFC certified sustainable fibers from sustainable forestry They are also plastic-free, and the packaging is recyclable. Plus, they are vegan.
Each container contains 56 baby wipes, and they can last up to three months in optimal condition, even if the container has been opened. The wipes are hypoallergenic, therefore they can be used even for babies with sensitive skin. If you are an environmentally conscious parent, these baby wipes are definitely a must-have ecofriendly bathroom product.
What do you think of this selection of products? Have they convinced you to turn your bathroom into an ecofriendly space? If you are interested in knowing about more ecofriendly alternatives, check out our article Ecofriendly Alternatives to Plastic in the Kitchen and much more in our blog! In case you know about more ecofriendly bathroom products, please let us know in the comments below.