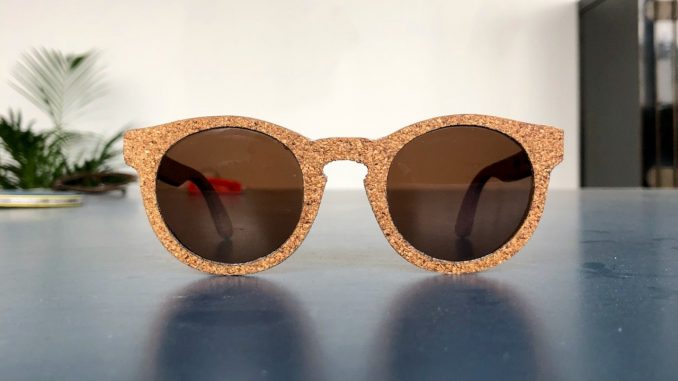 We tend to think that fast fashion only relates to clothes. However, the amount of waste that comes from the eyeglasses industry is actually quite staggering.  Plastic frames, plastic lens and glass lens are all materials that do not decompose. As a result, the waste piles up. The one that really gets me is the promotional sunglasses. They have the plastic lens, plastic frames and usually come in a plastic bag. These cheap glasses usually end up being thrown out when you leave the event. They are essentially single-use plastic glasses. Fortunately, several exciting companies are popping up in the world of eco-friendly glasses! From the United States to South Africa, conscious consumers have both sustainable and high-quality solutions.
What Are Eco-friendly Eyeglasses?
Eco-friendly glasses brands focus on a few aspects of their products to minimize the environmental impact of their product. One of the main focuses is materials. Handcrafting glasses from biodegradable materials and recycled plastic is prevalent.
Another key focus is making glasses that last. This effort keeps glasses out of landfills. Eco-friendly brands are offering free repairs and lifetime warranties. 
Beyond creating environmentally friendly products, eco-friendly glasses brands focus on social and environmental initiatives. Social responsibility programs range from supporting wildlife rescue operations to ocean conservation. Some are involved with local charities in their own communities. 
Let's take a short trip around the globe and learn about some exciting eco-friendly glasses brands. You'll have plenty of options for your next pair of glasses!
8 Exciting Eco-Friendly Eyeglasses Brands
Ballo (Cape Town, South Africa)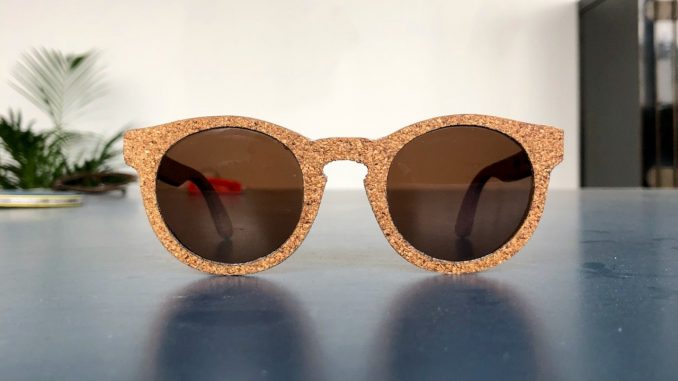 Ballo is a South-African brand that aims to be both socially and environmentally sustainable. The company was created in 2013. Ballo uses recycled or locally sourced materials. Local tailors are employed instead of using machinery. Using local talent helps to create jobs in their community. As they put it, "At Ballo we view waste differently and put the planet before profit."
Ballo aims to be a Carbon Neutral brand. The company plants a tree with GreenPop every time a pair of their handmade sunglasses is sold. So, your purchase has positive consequences for the planet as a whole. Ballo's production philosophy is based on a circular economy and zero waste. Second or third-hand machines are used when possible. Also, offcuts are used to make other items, such as earrings or flower pots.
Four materials are used in Ballo sunglasses:
Eyewood (a combination of wood veneer offcuts from local furniture producers, recycled paper and bio-resin);
cork;
traditional African cotton fabrics (sourced through offcuts from local businesses); and, 
hemp.
Ballo's sunglasses are a fantastic alternative to mainstream brands with unique styles and a distinctively African twist!
The largest wood eyewear brand in Brazil started as a father-daughter project based on social causes, fashion, sustainable production, and culture. These are the principles that guide how they source materials, how the glasses are designed and who produces them.
Allwood is not focused on promoting fashionable designs based on current trends. Instead, Allwood creates timeless and natural eyeglass models with a special history.   
Their preferred material is wood. Allwood eyeglasses are made from either bamboo, ironwood, cabreúva, walnut tree, imbuia or pau-marfim. During the entire production process, Allwood does not use chemicals or animal-based resources.
Allwood glasses carry a message of social and environmental sustainability. Therefore, the company collaborates with NGOs to assemble the boxes and frames. Allwood also donates part of their earnings to social organizations, encourages their clients to donate and rewards them with a 30% discount.
Allwood eyeglasses and sunglasses are beautifully made, with a variety of designs, shapes, and sizes. If you want to purchase high-quality eco-friendly glasses while giving back to the community, Allwood is an excellent choice.
Sunski (California, USA)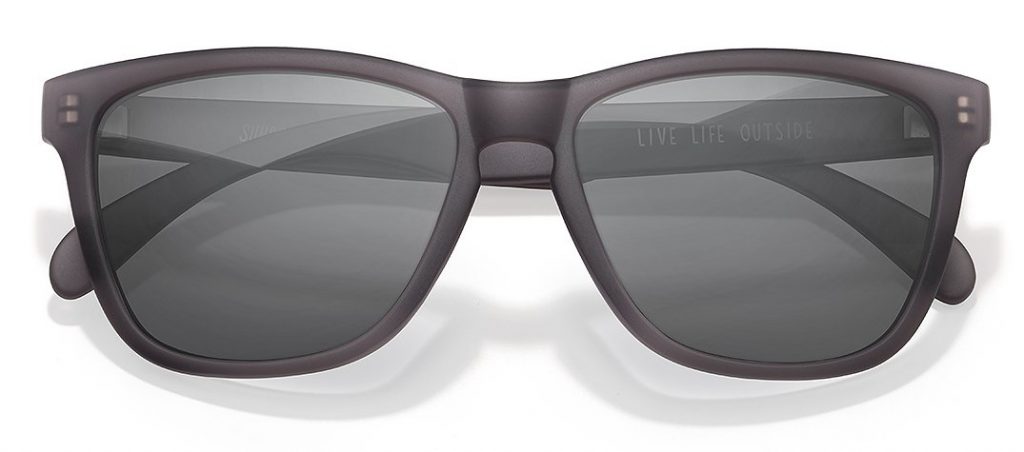 From sunny California, Sunski's products feature beachy vibes filled with the joy of summer. Their motto "Proudly independent, proudly California" is a reminder of how the brand chooses to do things differently.
The brand was created by two friends almost accidentally. It has grown into a small company that takes climate change and corporate responsibility seriously. Yes, they still manage to make style and fit a couple of their priorities.
In terms of sustainability, Sunski is proud of its five main initiatives:
recycled frames;
no plastic packaging;
1% for the Planet;
lifetime warranty; and,
certified Carbon Neutral.
With their innovative SuperLight recycled plastic frames – the plastic sourced locally and saved from an American landfill – they offer a light, comfortable and resistant product. Their products come in an elegant and biodegradable origami box. The goal is to make each pair last a lifetime. So, you will get free repairs as long as you want them. Sunski donates 1% of its earnings to environmental nonprofits, totalling $150,000 until now.
Their glasses are offered at a fair price, much cheaper than glamorous luxury eyewear. They are both comfortable for everyday use and stylish. Without any penny pinching or squeezing, these are the ideal glasses for long-term wear!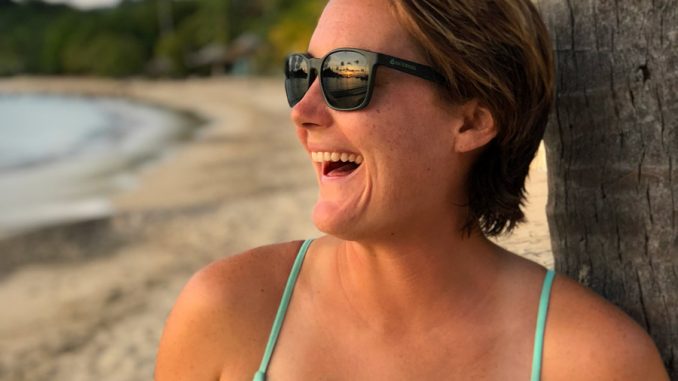 Waterhaul is bringing ocean plastic alive in the form of eyewear. From the stormy shores of Cornwall in the United Kingdom, their mission is to produce functional equipment from recycled ocean plastic and fishing nets. Since most debris is made of plastic, they do not biodegrade and remain indefinitely a threat to seabed habitats and coral reefs.
By working with fishers, community groups and NGOs, Waterhaul removes fishing nets from marina habitats. This removes them from remaining as waste in the ocean. What do they do with all these nets? Eyewear.
All of Waterhaul's products are produced 100% from recycled fishing nets and recycled mineral glass optics. The end product is functional and resistant eyewear for environmentally conscious outdoor enthusiasts!
Like other brands featured on this list, Waterhaul offers a lifetime warranty. Their goal is to recycle or reuse every pair of glasses that is returned. This way, the whole process guarantees zero waste and respect for nature and marine life.
If you are passionate about the ocean, Waterhaul might be the best option for you!
Grown (Australia)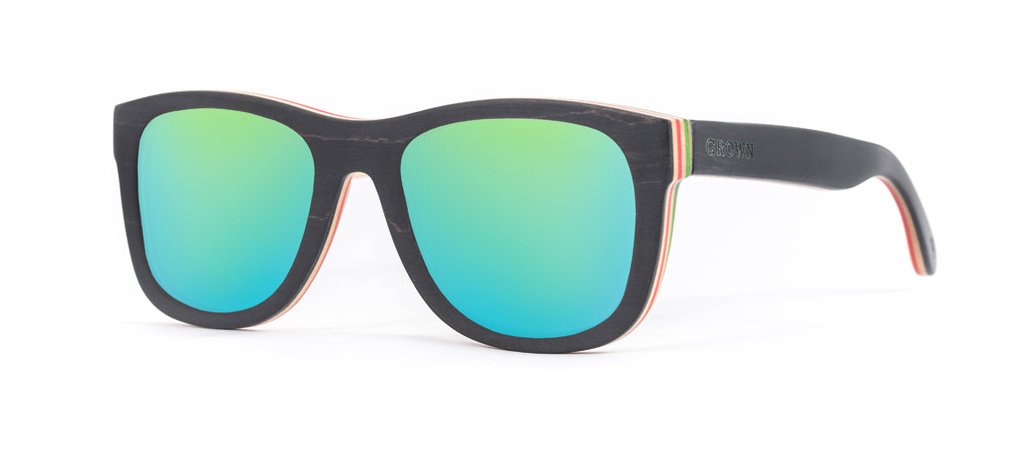 Halfway across the world, the Australian brand Grown is hoping to save wildlife by selling unique eco-friendly sunglasses made of wood. Their sales model is called the "Gift of Life." For every sale, Grown partners with WIRES to support orphaned and injured Australian animals. Interestingly, Grown was created to fund sight-restoring eye surgery. They supported over 1000 people. However, in 2013 they decided to focus on wildlife in Australia. The American and European branches of Grown continue to work with SEVA Canada for eye-sight restoration.
Grown's sunglasses are made from Bamboo and hardwoods (ebony, walnut, maple). They only use natural, organic and renewable materials. The woods used originate from forests that respect the sustainable forestry management standards of the Forest Stewardship Council. Toxic elements are not used in the production of their handcrafted sunglasses.
Each wood material used carries unique patterns and colours. Therefore, no two Grown sunglasses look alike – each presents its own natural designs.
For wildlife lovers, Grown is the eyewear brand you've been waiting for.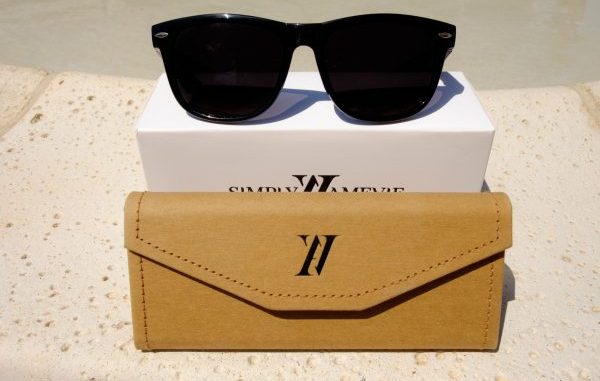 Amevie is a Canadian brand that wants to make a difference in the lives of children with visual impairments. Each pair of sunglasses sold by Amevie results in a pair provided to a visually impaired child who cannot afford them through a partnership with SEVA Canada. As they explain, "Amevie and SEVA want to work together towards a world in which no one is needlessly blind or visually impaired, just because of the unfortunate circumstances that surround them."
Fans of the brand can also support Amevie's charitable efforts by becoming ambassadors.  The role of an ambassador is to encourage the sale of sunglasses – getting a percentage of the profits – and raise awareness of SEVA's work with visually impaired people in Canada.
As for the sunglasses themselves, Amevie offers designs for women, men, and teens. They use high-quality hinges and waterproof bamboo wood. A brand certified by the Forest Stewardship Council, Amevie strives to be sustainable in the day-to-day activities of their company (e.g. only using recycled paper for promotion materials and going paper-free inside the office).
Amevie is a brand committed to sustainability and eye care and is the perfect alternative to mainstream eyewear in Canada.
Sasha (New Delhi, India)
Sasha is an Indian brand taking wooden sunglasses to runways and look books.  Handcrafted chic designs are made from sustainably and ethically sourced walnut wood. The result is a fantastic collection featuring eyeglasses for men and women.
Sasha derives inspiration from classical sunglasses models, such as aviator or sharp cat-eye. The company gives a modern twist while shaping the wood elegantly and uniquely. Sasha glasses are made by Indian people for Indian people and intended to last a long time.
According to their website, the goal of Sasha is to "…bring to the fore sustainable eyewear which is easy on the planet, yet a reflection of your individualistic sense of style".
If you are ever in New Delhi, Sasha is definitely worth a visit!
Sea2see (Barcelona, Spain)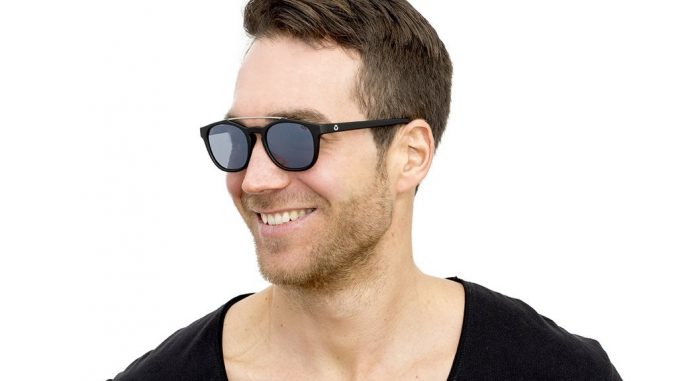 Sea2see is the eyewear brand the celebrated Spanish actor Javier Bardem fell in love with. Sea2sea aims to "create a global consciousness in regard to the issue of sea contamination through a stylish product that anybody can wear with pride." As of now, over 80,000 tons of plastic have been collected with the assistance of this lovely enterprise.
The pillars of the Sea2see business model are material health, renewable energy, social fairness, water stewardship and circular economy. Instead of seeing ocean plastic as garbage, Sea2see considers it an opportunity to save the oceans from pollution and produce high-quality eyeglasses. It is the first eyewear brand to receive the Cradle to Cradle certificate. This is considered the most accurate, science-based, and trustworthy industry-standard certifying products that fulfill the Circular Economic model.
Sea2see works directly with Spanish and Ghanaian fishers to recover plastic waste from the oceans. Their products can use 90% of this waste plastic. The plastic is up-cycled, moulded and hand-painted in Italy. A renowned Italian family company very experienced with working with high-class eyewear brands oversees this process. Every piece that leaves the factory is a true piece of art.
The eyeglasses can be either optical or sunglasses, and Sea2see offers many different kinds of designs. Sea2see's rich collection certainly has something for all tastes!
Why Buying Eco-friendly Eyeglasses is Important 
We hope you have enjoyed this list of eco-friendly glasses and the amazing brands featured. Each of these enterprises is doing truly fantastic work for the environment, communities, and economy. Sometimes it may seem like one eco-friendly purchase will not make a huge difference. However, changing our shopping habits can have a tremendous effect on the planet and society.
Please consider buying eco-friendly products whenever possible and support socially responsible brands. If you are looking to buy a new pair of eyeglasses, choose any option on this list. Share these amazing products with your friends and families. Encourage each person on your social network to be environmentally conscious when shopping. There are a lot of options!
Buying eco-friendly products is a fantastic contribution to a greener economy. Although we might not always realize it, hundreds of innovative companies offer sustainable alternatives to everyday products. Eyeglasses are just an example of the number of fantastic brands fighting for wildlife, social justice and pollution-free oceans!
Did you like this list? Are there other kinds of eco-friendly products you are searching for? You may like our other posts featuring the best sustainability links or 41 Awesome Social Enterprises.