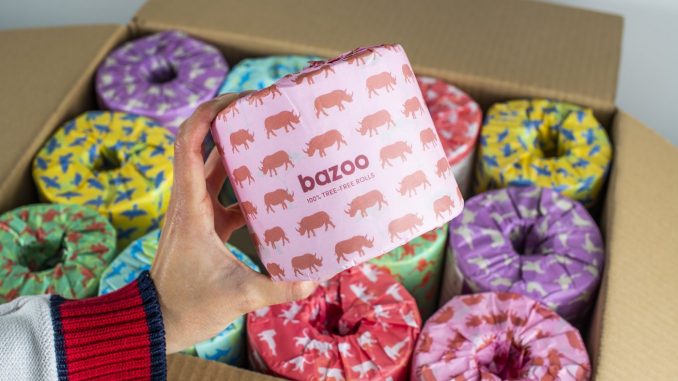 In today's world, we are spoilt for choice. It is not always easy to know what household products to buy. To help you decide on your next toilet paper purchase, here are some reasons why you should choose Bazoo.
1. Bazoo toilet paper is made from 100% FSC certified bamboo pulp
Bamboo plants have many advantages as to why they grow more sustainably when compared to hardwood trees used for regular toilet paper. Bamboo requires 30% less water to grow, no irrigation, it is extremely weather durable, and the bamboo plant itself releases 35% more oxygen and absorbs 65% more carbon dioxide than regular trees.
Above all, bamboo grows 30 times faster than regular hardwood trees, it is harvested much more effectively and efficiently. The harvested land being able to turnover healthy grown bamboo much more quickly than regular trees. Bamboo is also naturally hypoallergenic and antibacterial – the perfect combination for clean yet super-soft toilet paper!
2. Bazoo toilet paper is strong but luxuriously soft
Bamboo is a strong plant made from long, strong fibres. This makes it ideal for toilet paper as the fibres firmly hold the toilet paper together. Meanwhile, due to the natural qualities of these bamboo fibres, they are soft, and the quality of bamboo toilet paper can actually be softer than toilet paper made from regular trees. Bazoo's toilet paper is made from 3-ply and the perfect mix of strong but soft.
3. Bazoo is a local British business
Two graduates from Surrey officially launched Bazoo in June 2021 after seeing the devastation and destruction regular toilet paper caused, specifically cutting down 27,000 trees a day. Sanmarie and Tom set themselves the challenge of starting a sustainable business that puts the earth and all of its species at the forefront of their vision. They are both from and based in Surrey, in the Uk.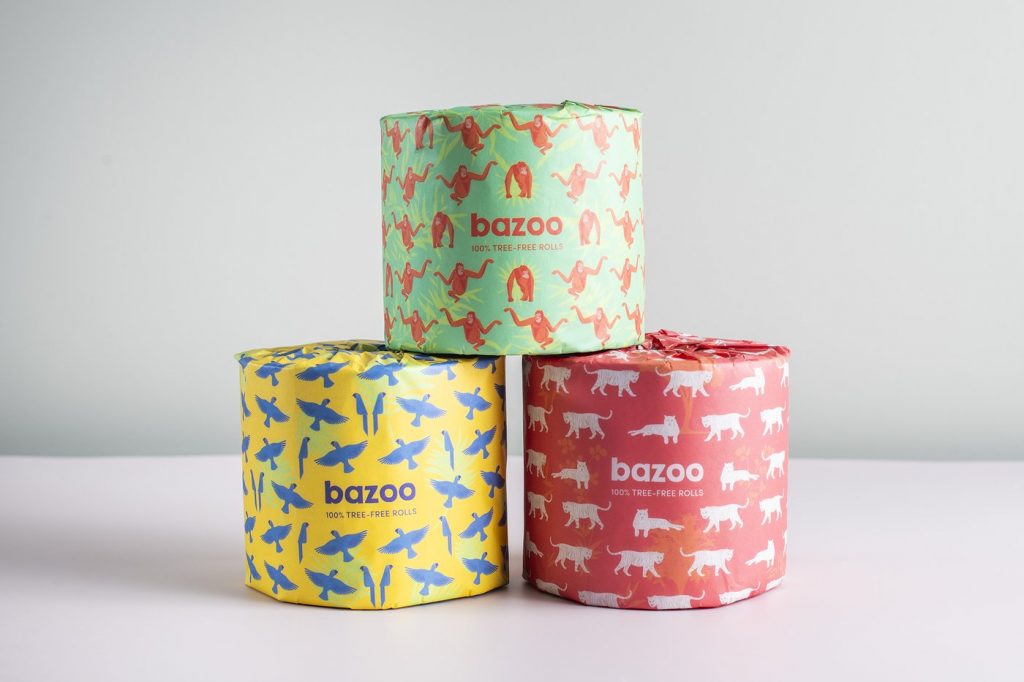 4. Bazoo uses no chemicals, inks or dyes
Bamboo plants are naturally self-generating and therefore don't need any harmful chemicals to stimulate growth or fertilizer. No other harmful chemicals, inks or dyes are used in the manufacturing process due to the already great natural qualities present in the bamboo pulp.
Bazoo has even gone one step further. When bleaching the bamboo pulp white, they use chlorine-free bleach made from 100% natural biodegradable animal products. In comparison, the majority of regular toilet paper brands use chlorine bleach to get the white colour.
5. Bazoo is carbon negative
Bazoo achieves its carbon negative certification with help from ClimateCare. Total emissions released at every step of the journey (from growing the bamboo to the moment it's delivered to your door) are calculated and then offset through the different international projects, such as sustainable burn stoves. Bazoo offset 200% of their total emissions– making them carbon negative.
6. Bazoo is a better alternative to regular and recycled toilet paper
According to a study conducted by The Carbon Footprint company, bamboo sourced tissue releases 0.6gCo2e (greenhouse gas emissions per sheet of paper) in comparison to 1.0gCo2e omitted by recycled toilet paper and 2.0gCO2e from regular toilet paper. This means that Bazoo toilet paper uses just over a quarter of the emissions of regular toilet paper. And if you add all the sheets you use over a lifetime; it's a surprising amount of CO2!
7. Bazoo has a zero plastic policy and everything is recycled and recyclable
All of Bazoo's packaging is made from 100% recycled materials that can be fully recycled again after use. There is also zero-plastic used in any stage of the bamboo toilet paper production, manufacturing or packaging. Bazoo even uses paper tape to seal their boxes and soy ink, made naturally from soya beans, for printing on their cardboard boxes!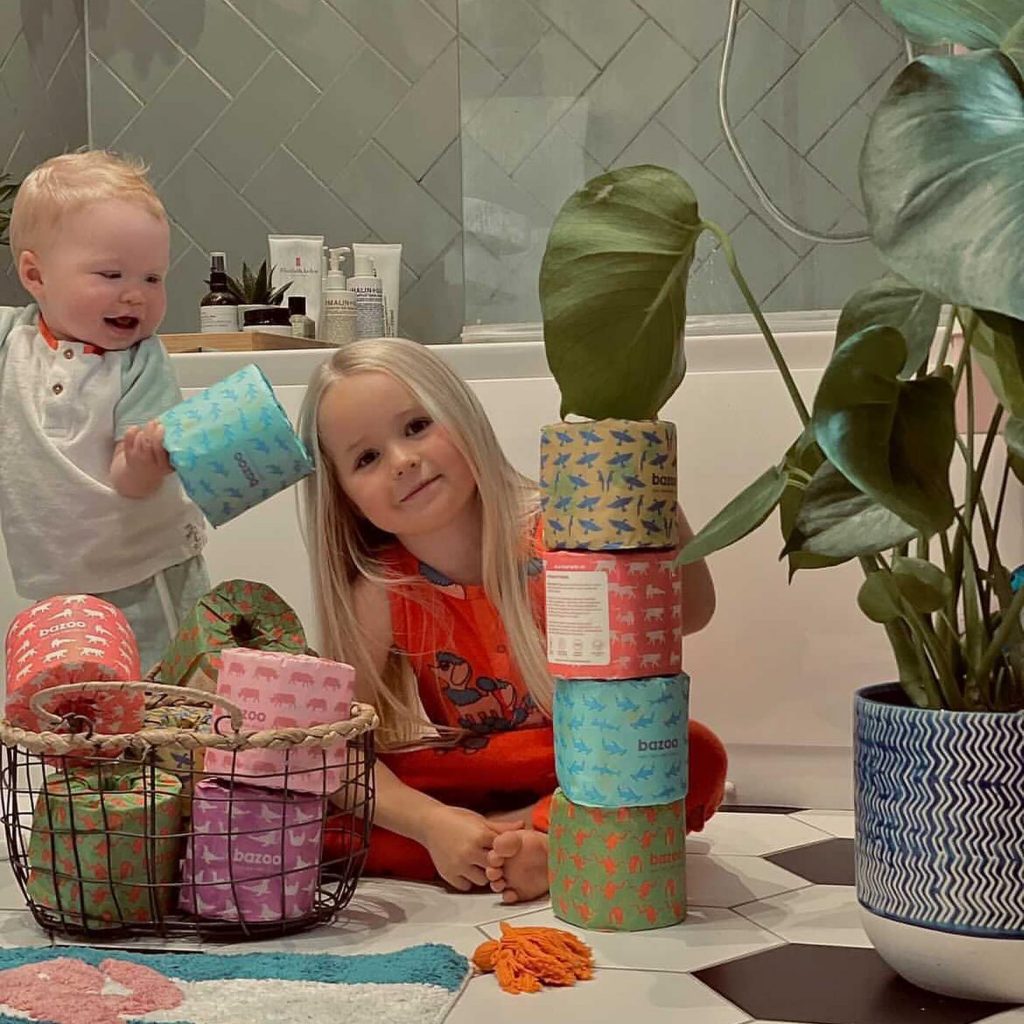 8. Bazoo offer one-time purchases or subscription & save 15%
If you prefer to buy your toilet paper as and when you need it – great! However, Bazoo does offer a subscription service where you can save 15% on every order. Subscribing on the website is super-easy, and Bazoo has already done the calculations of toilet paper needed for your specific household. View their toilet paper calculator and sign up for a hassle-free subscription service where you never have to wrestle with toilet paper in the supermarket again (that's most definitely wrapped in plastic!).
9. Bazoo donate 10% of their profits
Bazoo is partnered with two UK-based charities: Just One Ocean and Rainforest Trust UK. Both of these charities' missions and vision for the future coincide with Bazoo's of raising awareness, educating ourselves and future generations about mankind's impact and teaching about sustainable choices that we can all make to make small changes that will have a big impact. You can read more about Bazoo's work with their charity partners here.
So what are you waiting for? Please go check out Bazoo's carbon negative toilet paper (the first in the world, actually!) and give it a try today!
Don't forget to check out our article profiling 13 Eco-friendly cleaning products. If you know of other companies that we should add to the list or if you've tried out Bazoo, we'd love to hear about it in the comments!
Found this useful? Pin it!