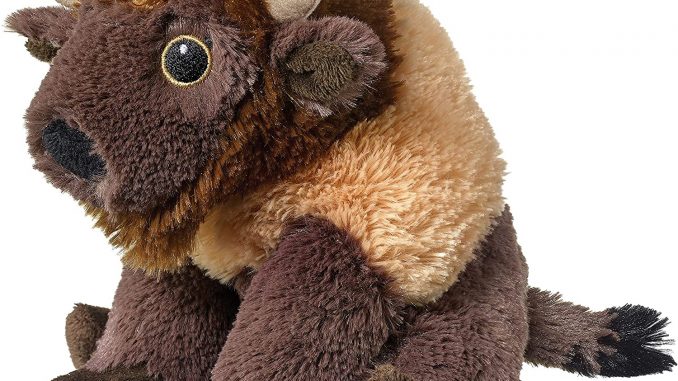 In a world oversaturated with cheap and overly complex children's toys, many parents are turning to classic toys to help develop their children's skills. However, retrieving the toys from your own childhood might not be the best solution. Many classic toys were unfortunately made from toxic materials and were extremely pollutant.But now you will find better eco-friendly alternatives for classic toys.
Whether we are talking about building blocks, jigsaws or stuffed animals, sustainable toy brands show how the toys we have always loved can be reinvented for the benefit of our children and the environment.
Here are our suggestions for eco-friendly alternatives for classic toys. For each category, we will present you a suitable alternative option available on Amazon.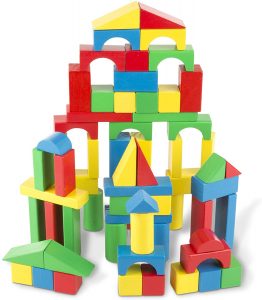 Blocks will never go out of fashion. This kind of toy is essential to stimulate your child's creativity, imagination and motor skills.
Melissa & Doug have a fantastic eco-friendly wood blocks set with 100 pieces, ideal for children ages 3 to 8 years old. The blocks come in four different colors and nine shapes.
All blocks are made of solid wood. They are also lightweight with rounded ages, being the ideal safe toy for children.
By building and re-building shapes with these blocks, children should develop motor skills and also become aware of basic math concepts.
In short, this is a great eco-friendly alternative to other plastic building blocks.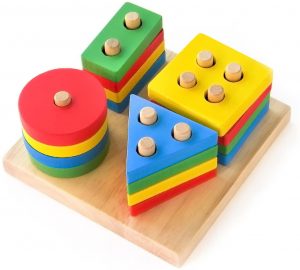 Stacking toys are another classic that children absolutely love. Boxiki Kids has a great eco-friendly wooden stacking toy and shape sorting board which will keep your child entertained for hours.
Through this toy, toddlers learn about geometry, shapes, and colors. It allows them to develop cognitive and problem-solving skills and also logic and dexterity.
Especially designed for small hands, this toy is made of wood with non-toxic and eco-friendly materials. The toy is also ASTM F-963 certified and made to last many years.
Plus, you can easily bring it with you on the road. This way, your child will be able to play at all times.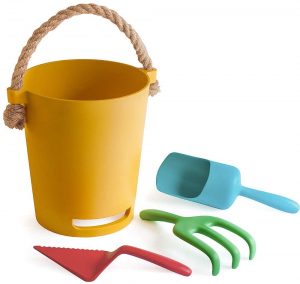 A beach toy set is a must-have for any toddler that loves building sandcastles. However, in this case it is even more important to make sure the toys are made of sustainable materials. Many beach toys end up lost in the ocean as pollutants, especially those made of plastic.
The Echo Beach Toy Set by LoveLotte, however, is made from Bamboo Fiber and USA-grown Constarch. The toys are built to last, but if they do end up in the ocean or buried under the sand, they will decompose organically in about 12 months. The toys are also BPA-free and part of the profits of LoveLotte are donated to Plastic Oceans.
All of this makes the Eco Beach Toy Set the perfect present for your child for sunny holidays!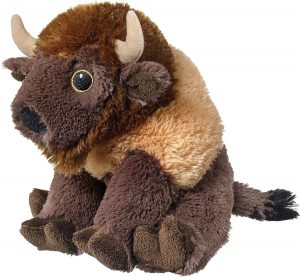 Stuffed animals often become children's best friends. Kids carry them around all the time and they are essential for imaginative role-playing. Often, these toys are one of the most cherished childhood memories of adults.
Eco Pals and the Wildlife Artists have created the ultimate eco-friendly stuffed animal series 100% made of recycled materials.
Not only is the Bison very cute, it also fits perfectly with a toddler's size and it is great to cuddle with. Each Bison also has an educational hang tag with information about bisons and wildlife conservation, encouraging children to reduce pastic waste and protect the environment.
You can become part of the Eco Pals community by posting photos of your stuffed animal and using the hashtag #BeAnEcoPal.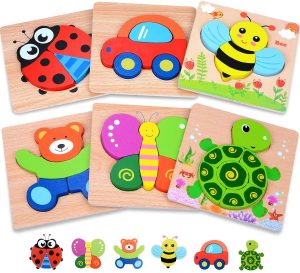 Jigsaws and puzzles are mesmerizing for children. They can help them to develop problem-solving skills, improve concentration and hand-eye coordination.
MAGIFIRE has a great Animal Shape Jigsaw made of high-quality wood. It is completely BPA free with smooth edges, ensuring a safe experience for your children.
Each of the jigsaws has animal shapes with vibrant colors, attracting the attention of kids and encouraging them to play. The shapes fit perfectly with children's small hands, but they are too big to swallow.
This jigsaw is also a portable toy. You can take with you on trips and outdoors, and your child can also play with friends and family.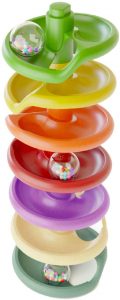 Spiral towers can be a lot of fun. It can be a useful teaching tool to introduce children to physics and it helps to develop motor skills. The Quercetti Spiral Tower PlayBio is an eco-friendly version of traditional spiral towers.
It consists of a large ball ramp, featuring 7 levels made with the PlayBio material. The Spiral Towers comes with rattle balls which children can grasp easily. Inside these balls, you can see colored beads which have a nice sound. This toy is perfect for audio and visual stimulation.
The Spiral Tower helps children understand cause and effect. It also develops their concentration skills and eye-hand coordination. It is made with a 100% recycable bio-composite of wood fibers and plastic.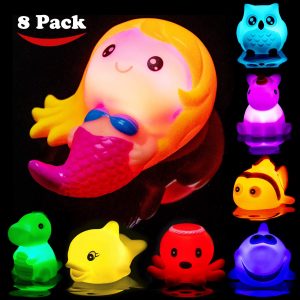 Another set of toys that every child must have are bath toys. HLXY Bath Toys come with a twist – they have LED lights which can last up to three months.
These toys are made from eco-friendly and non-toxic materials. Once you place them in water, the toys will automatically light up. It will make convincing your child to take baths much easier!
The toys are also useful to teach your child about animals and colors. They are perfect to fit into a toddler's hands, with an adorable design.
We hope our selection will help you ensure your child has a plastic-free childhood. If you would like to know more about eco-friendly alternatives for classic toys, check out our articles about The Best Eco-Friendly Baby Toys and 6 of the Best Eco Friendly Toys by Wonderworld Toy.