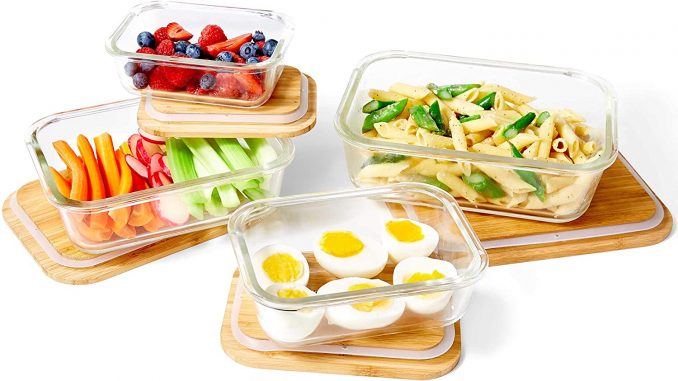 Living a plastic-free life can be challenging. One of the places where we rely more on plastic is the kitchen, from the products we use to conserve our food to cooking utensils. However, now there are increasingly more eco-friendly alternatives to plastic in the kitchen – all you have to do is search for the right option for you!
These alternatives feature innovative materials which can be used and re-used throughout the time. By letting go of the single-use toxic mentality and investing in durable products made from sustainable sources, you can start to create your own eco-friendly kitchen with 0% plastic.
Eco-friendly Alternatives to Plastic in the Kitchen: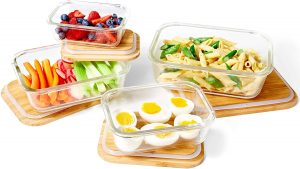 Looking for an alternative to the classic plastic Tupperware to store your leftovers? Look no further than Nummyware plastic-free containers. They come in five different sizes, and you can use them for the over as well, up to 520°F. Because they are made of glass, these containers are also more resistant to stains than traditional plastic ones.
The containers' airtight sustainable bamboo lids are also plastic-free, formaldehyde-free, BPA-free, phthalate-free, biodegradable, and recyclable. You may also choose to re-use them as cutting boards which you can carry with you anywhere you go.
With these containers, there is no excuse to relying on plastic to store your food!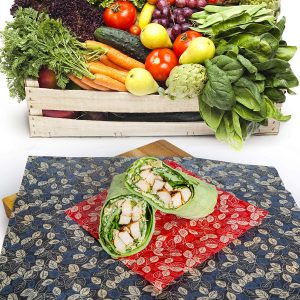 Another plastic product that we tend to use too much in the kitchen is plastic wrap. Usually, you can only use it once, which makes it an extremely pollutant product. Thankfully, there is a fantastic eco-friendly alternative – Savourio Reusable Beeswax Wrap.
Not only do these handcrafted wraps look amazing, with vibrant colours and patterns, but they are also 100% biodegradable and recyclable. You can use them multiple times, and it is just as effective as plastic wrap. You can mould it to fit different kinds of containers and carry it with you wherever you go.
The large pack from Savourio includes 4 beeswax wrappers in three different sizes, from small to extra-large. Not only will your kitchen habits become much more sustainable by using these wraps, but your food will also seem much more delicious!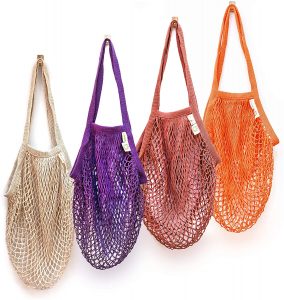 When you go out shopping for groceries, it can be disheartening to see how many fruits and vegetables are in plastic nets. The amount of plastic shopping bags that people use and discard every day is also concerning.
If you are looking for a good alternative to carry your produce home with you, then Ekolojee Organic Reusable Cotton Net Grocery Shopping Bags might be exactly what you need!
Ekolojee is completely plastic-free in its products and packaging. These bags are made from certified organic cotton and made to last. They are washable and stretchable, so you can put as much produce as you want, up to 40lbs.
The four-pack includes bags of different vibrant colours inside a muslin bag. Although these bags were intended for shopping, you can also bring them for camping, to the beach or to store any other kind of supplies.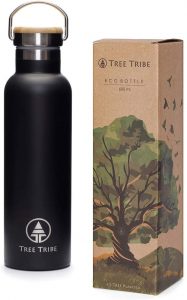 Too many people still rely on plastic water bottles to stay hydrated throughout the day. If you really need a container to keep your water fresh, consider the Tree Tribe Stainless Steel Water Bottle.
It can keep your water cold for an entire day, and it is leakproof. This water bottle was designed to be durable and re-used. It is BPA-free, so you will not run the risk of having chemicals in your drinking water.
This water bottle is made from high-quality stainless steel, but it is still extremely lightweight. You can carry it with you all day or leave it in the kitchen to replace other water containers.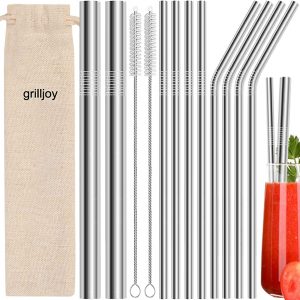 We have all heard about how plastic straws are dangerous to the environment. The best alternative is to invest in metal straws that you can use and re-use.
This is where Grilljoy's reusable metal straws come in. Made from stainless steel, the straws are non-toxic, do not get rusty or leave any aftertaste.
You can clean them in the dishwasher and also, if needed, use the brushes to rinse off any inside stains.
These straws are perfect for any drink, from milkshakes to cocktails, and they are highly durable. By investing in a set of metal straws, you can avoid using plastic ones for years.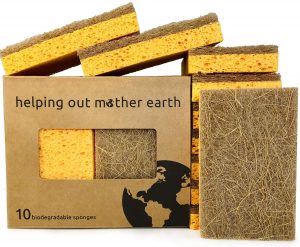 Even when you can avoid using plastic products for all your food-related needs, it can still be hard to find eco-friendly alternatives to sponges.
Thankfully, Helping Out Mother Earth Natural Sponge has got you covered. They use sustainable plant-based materials to create natural sponges. These sponges are durable and will biodegrade naturally. The 10-pack option will last you for a significant amount of time. The coconut fibre scrubber is also highly effective.
Plus, Helping Out Mother Earth makes sure their products only use 100% recyclable packaging. Finally, you can invest in a sustainable alternative that can make dishwashing a much more eco-friendly process.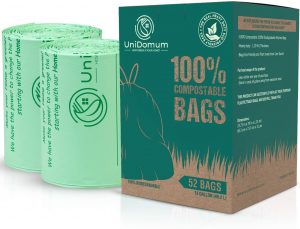 Another item people often have trouble finding a suitable sustainable replacement for is trash bags. These products are difficult to reuse, so the goal is to decrease the environmental impact as much as possible.
You can do that by using UniDomum Compostable & Biodegradable Trash Bags. Although these bags are 100% eco-friendly and do not use any  GMO or toxic residue, they are actually up to 50% thicker than normal bags.
This product is certified by the Biodegradable Products Institute. It can also be discarded both in home composting bins and also in municipal facilities.
Those are our suggestions for eco-friendly alternatives to plastic in the kitchen! You may also be interested in our article about eco-friendly kitchen utensils from Amazon to continue your eco-friendly journey.
Disclaimer: This article contains affiliate links. Ecoripples will receive proceeds if you purchase these items through our links.
Found this useful? Pin it!