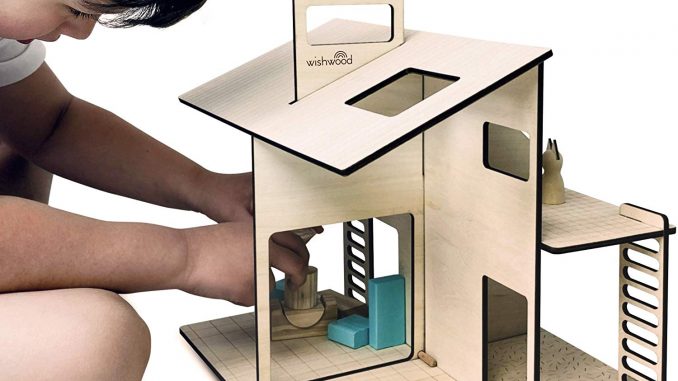 Surprise, my 3-year old daughter is a big fan of Frozen! We started looking at Christmas gifts for her and thought about a dollhouse. I wanted to find an alternative to the sleek and colourful Frozen dollhouse. So, that began my search for an eco-friendly dollhouse.
I wanted to find an alternative to a convenient and cheap plastic toy. I searched through a number of the eco-friendly toy brands that we are familiar with to see what they had to offer. A bit to my surprise, there were several eco-friendly dollhouses on the market.
There are always common characteristics of eco-friendly toys. The most obvious one in the eco-friendly dollhouse category is that they are primarily made from wood. Another feature is that they use very little paint. When they do have colour, the companies are very particular about the paints they use. They make sure the paints are non-toxic and child-friendly.
The following is a list of some of our favourite eco-friendly dollhouses in no particular order. I hope you like it:
Some of our Favourite Eco-Friendly Dollhouses
1. All Seasons by Hape
Hape makes great toys, and this eco-friendly dollhouse is no exception. The All Seasons dollhouse is big, sturdy and entertaining. It has six rooms on three stories and comes fully furnished, painted and decorated.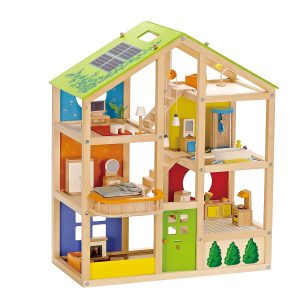 2. The Green Dollhouse by Plan Toys
The Green dollhouse by Plan Toys is one of my favourites. It looks like a postmodernist architect designed it. It has a very minimalistic and clean design. Best of all, it features a solar panel, a wind generator, and recycle bins. Plan Toys is characterized by being an energy-conscious company manufacturing their products with the 3 R's in mind: Reduce, Reuse, and Recycle. This toy is made with recycled rubberwood and dyed mostly with soy.  If your children don't have fun with it, you probably will.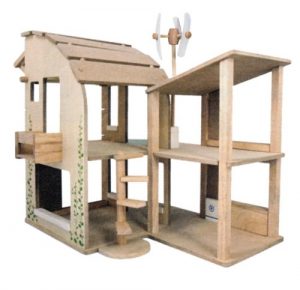 3. Terrace Dollhouse by Plan Toys
From the same manufacturer of The Green House, the Terrace Dollhouse has a more classic style. It has three stories and very nice colourful doors and windows. The design features a staircase and a nice terrace. Below the terrace, there is a space where your children can park their toy cars. It doesn't include any furniture, so you'll have to buy it separately.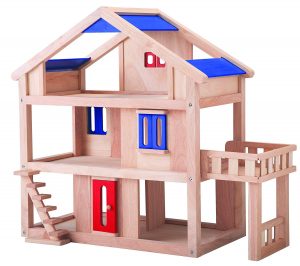 4. Modern Wooden Dollhouse by Wishwood
Wishwood's design for this dollhouse looks definitely modern, minimalistic and gender-neutral. This dollhouse is simple, sturdy and not pricey at all. It is perfect for a gift if you're not sure whether your child will like playing with a dollhouse.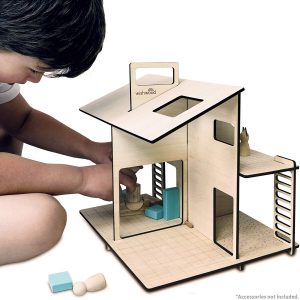 BUY Now!
5. Bamboo Sunshine by Hape
Bamboo is a grass that can grow as fast as 35 inches per day, making it one of the best sustainable materials to build anything. It is used as a material in real houses as well as dollhouses. Hape builds Bamboo Sunshine with birch plywood walls and bamboo floors. I love the simple design of this house, and it features solar panels and LED lights. The set includes furniture and decorations.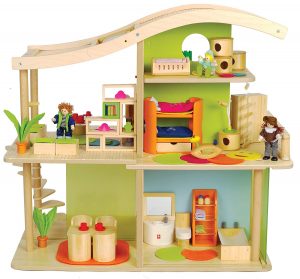 6. European Wooden dollhouse by Bella Luna
This European Wooden dollhouse is a beautiful work of carpentry. Made in Poland, this dollhouse is perfect for your children to use their creativity. They have the opportunity to decorate and furnish the dollhouse as they desire. The dollhouse is made with Alderwood making it very durable. This house is a bit on the expensive side. Click on the link below, and you'll see what we're talking about.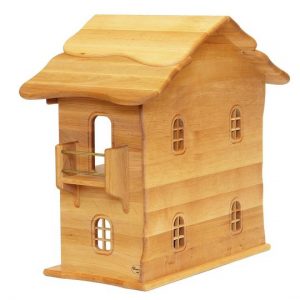 7. Our Maine Dollhouse by Elves & Angels
This is a big, solid and sturdy dollhouse with a classic design. The Maine dollhouse features nine rooms on two stories with all the furniture included. You can choose from Pinewood to Hardwood for the fabrication, with a price, of course. And talking about price, this dollhouse is on the expensive side. But if you want something to pass down to your great-grandchildren, this is a good option.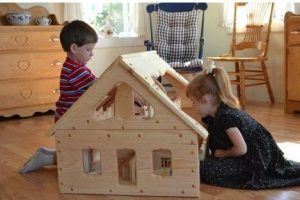 8. Classic Dollhouse by ChildCraft
This dollhouse is made entirely out of birch wood. The Classic dollhouse is a sturdy toy, ready to be personalized by your child. It is a little pricey but is also big and heavy. Your child will enjoy it for years.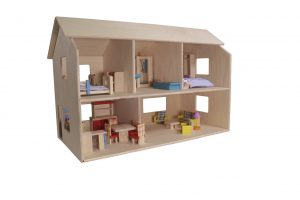 9. Majesty by Kubi Dubi
Kubi Dubi is a Russian toy manufacturing company committed to the environment. Majesty, from Kubi Dubi, is an eco-friendly dollhouse made with different woods such as oak and linden. Kubi Dubi uses sustainable materials and state-of-the-art equipment to create toys that are safe for children. They do not use paints, resins or chemicals in their manufacturing. This dollhouse does not come preassembled.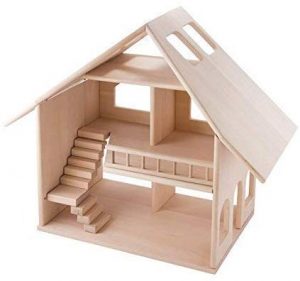 10. Fold & Go by Melissa & Doug
This portable, fully assembled dollhouse is made of wood. The Fold & Go is highly detailed and has fully functioning doors, stairs, and windows. The set includes 11 pieces of wooden furniture and two wooden dolls. If your child wants to play somewhere else, they have to close the house and take it with them!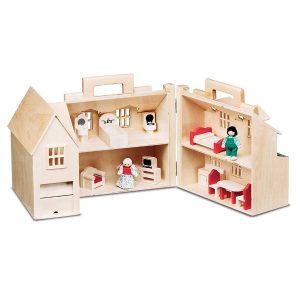 11. House Play Set by Green Toys
Ok, yes…. it is plastic.  But, Green Toys is a company that is committed to sustainability. Their products are manufactured from 100% recycled materials at US-based plants. This house comes with all the furniture, two bear dolls and a car. This is an interesting alternative to wood-based dollhouses.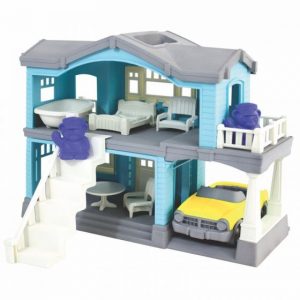 12. Barbie Wooden Dollhouse by Ecotoki
Ecotoki built this gorgeous wooden dollhouse to fit Barbie dolls. It is made out of high-quality plywood and coloured with safe acrylic paint. It also comes furnished and with working lights. When you purchase this dollhouse, you won't need to buy any other accessories.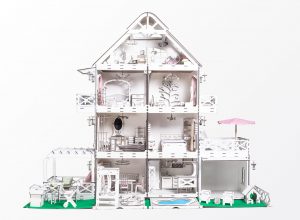 13. Wooden Doll Tiny House Princess Castle by Papaslon
This tiny house is a simple yet cute castle that consists of 5 modules of birch plywood. It is easy to assemble. This house can be disassembled quickly for storage. Papaslon offers many other styles of dollhouses that you can mix and match to create an amazing town.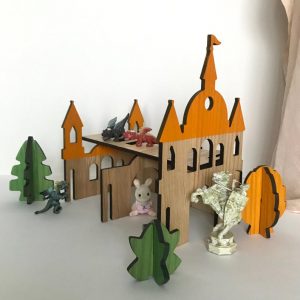 Do you have any of these eco-friendly dollhouses? Are you aware of some other dollhouses that should be on our list? We'd love to hear about it in the comments.