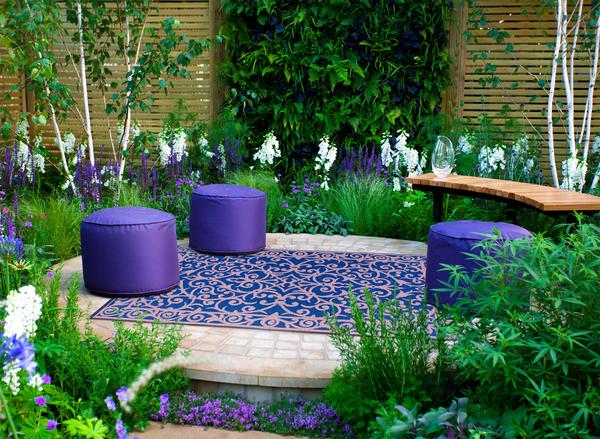 Home décor products can be found everywhere. Big box stores carry trinkets and nick knacks to fill every corner of our homes.  With all of this stuff available, how often do we pay attention to where it came from? What about the resources required getting it from the factory to our living room?  Who's involved in producing that piece of furniture that we picked up on a whim for $9.99?
Green Decore is a company that thinks about these questions! They are on a mission to provide the best home décor products that are environmentally friendly.  Ecoripples was excited to find out about them and is even more excited to tell you about their business.
Green Decore is an organic, eco-friendly business that provides customers with beautiful, environmentally friendly rugs and other decorative home décor items.  Their products are elegant, ergonomic and have minimal impact on the environment.  We had a chance to chat with Green Decore and were impressed with their approach, vision and values.  We think you will be too!
Ecoripples' conversation with Green Decore
Where did the idea for Green Decore originate?
Back in 2012, our company directors were looking to find beautiful, affordable and environment-friendly home décor items for their own home.  In most cases, the products available on the market did not fulfil all three of those criteria, many products not even fulfilling one of them.
The indoor and outdoor rugs are really beautiful – how did rugs come to be the focus for Green Decore?
A trip to India gave our company directors the idea for these rugs and they were determined to make them available to other people who want home décor to be ethical, yet affordable.
Could you tell us a bit more about how and where the rugs are made and who helps to create them?
All of our rugs are made in India.  The rug designs are carefully prepared by the Green Decore team and are sent to skilled machine designers in India where they are converted into the machine cards used in the machines to reproduce the designs.  The recycled plastic rugs are made from plastic straws (recycled plastic bottles) woven by machines in order to keep costs low (which is what makes them affordable).  All plastic waste from the machines is reused to make a lower grade of rug, which means that the machine process is very efficient with almost no waste products at the end of the process.  The PET rugs (made from superfine polyester fibres recycled from plastic bottles) are handwoven.
Our recycled sari silk rugs are handmade by skilled weavers and are limited due to availability of materials and a shortage of weavers with the necessary skills to make them.  Our wool rugs are hand tufted and come in a range of sizes or can be made to measure.  Our cotton rugs are handmade using the best quality cotton.
What is the most important thing you would like people to know about Green Decore?
That we work diligently to create beautiful and affordable products for homes around the world while keeping the most important aspect of our mission in mind – to reduce the carbon footprint on our environment because we believe the world is a beautiful place and we aim to do our part in keeping it that way.
Would you mind telling us about 2-3 other organizations that you think we should know about and share with our community?
Dopper – the makers of reusable water bottles in a bid to increase access to safe drinking water, reduce waste and help raise awareness of environmental issues, especially the dangers of single use plastic.
Mac and Wood – a company that makes home and office furniture from reclaimed wood.
Rewind – a company selling radios, torches and lanterns charged by wind-up or solar panels, each product designed to withstand the elements.
Below are a few of the great area rugs from Home Decore.  Check them out and more on their website.