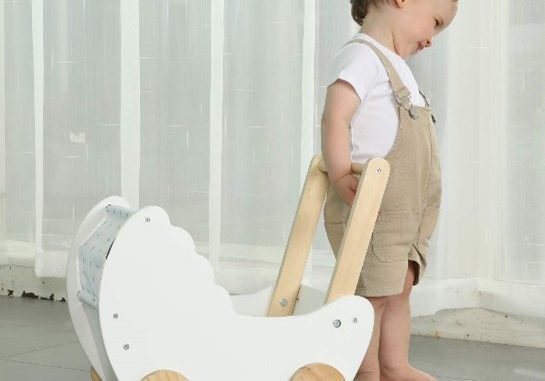 Push and pull toys are very important for children's development. These kinds of toys help to enhance coordination, spatial and motor skills, develop muscles as well as imagination. However, these toys are generally made from plastic and other pollutant or even toxic materials, such as lead. This is why we would like to present you with examples of the best sustainable push and pull toys for toddlers.
There are many brands dedicated to creating excellent eco-friendly toys and push and pull ones are not an exception. Most of these toys are made from wood and other eco-friendly materials, and are especially designed to be resistant and durable.
Here is our selection of sustainable push and pull toys for toddlers, all available and easily accessible on Amazon:
Sustainable Push and Pull Toys for Toddlers

The Janod Pure Pull Along Snail is a delight for toddlers. It is not a simple pull-along toy. It also features a drum and a small xylophone when you pull it, a great addition that makes this toy twice as much fun.
This toy is ideal for toddlers who have just started walking. It is made from natural and sustainable wood, and it used water-based paints. The soft colors make it a great present for both girls and boys and the toy is made to last for years, so it can perfectly be used by younger siblings.
If you would like to introduce your toddler to music while enhancing coordination skills, then this is the ideal toy for you!
Kinderfeets Push and Pull Bamboo Animal Toy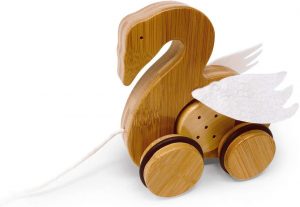 This beautiful swan Push and Pull Bamboo Animal Toy by Kinderfeets is great to encourage your toddler to take his first steps.
Made from sustainable bamboo, the toy is lightweight and durable. The wheels are also rubber-rimmed to ensure it will not cause scratches in your home.
Every time your toddler pushes the animal, he will hear a soft kingle. This way, your child will be encouraged to continue pushing and playing.
Plus, it has a very elegant design and is handmade. Not only will it be great for your child, it can also turn into a beautiful decoration after he outgrows it.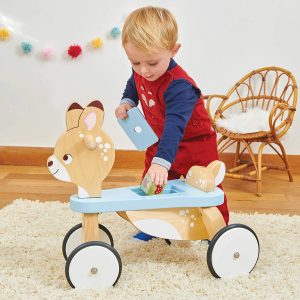 This beautiful Deer Push Along toy was created to encourage cognitive development and color recognition. With a resistant wooden structure, the Deer Push Along also has storage pockets for your kid's other toys.
The toy is hand-painted and decorated with non-toxic paints. It is mainly made from plywood and rubberwood, but also rubber and stainless steel. All materials are sustainable and ensure the toy is safe for children, without sharp edges or any toxic components. This toy is part of the exclusive Petilou Collection, which was designed specially for small hands.
In short, this is a great toy to develop your child's coordination skills and, like other wooden toys, it is made to last a long time.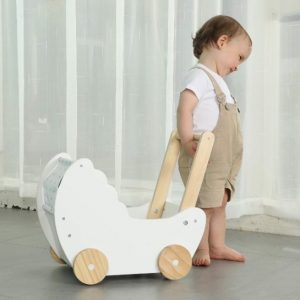 This wooden walker by Jolie Valée TOYS & HOME comes with a big toy chest. Your toddler can push the walker while carrying his favorite toys and will allow your child to practice standing alone.
The walker is made from solid wood and MDF (Medium Density Fiber). All materials adhere to strict Toys Safety Standards and there are no sharp edges which can cause injury. The wheel block can also prevent your toddler from falling suddenly.
In addition, the rubber wheels prevent scratched floors and allow for a smooth ride. With a beautiful and elegant design, this toy can also double as a design piece for your home.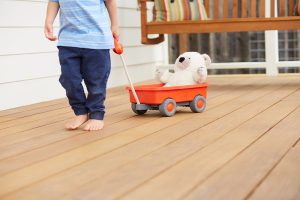 The Green Toys Wagon is the perfect outdoor push and pull toy for your adventurous toddler. Your child can carry it anywhere and it is very resistant, even though it does not have any metal axles or external coatings. This toy is made in the USA and does not have any materials with BPA, phthalates or PVC. It also had a 100% cotton rope handle, which you can easily tuck inside.
The Wagon is made from 100% recycled plastic, making it a great alternative to other plastic toys. The goal of the Wagon is to encourage your child to dream and play, while developing essential motor skills.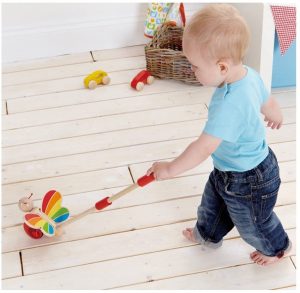 This award-winning toy offers a twist to the classic push toy. It aims to develop coordination, balance, and other key motor skills, but it also fascinates toddlers with its bright colors and friendly design.
It encourages toddlers to walk and run as its rainbow-colored wings flap up and down with movement. This Butterfly is guaranteed to offer your toddlers lots of fun exercise time!
The Butterfly Push and Pull is made with solid wood and water-based paint. All Hape's toys follow the strictest safety standards for children's toys. Therefore, the Butterfly does not have any toxic finishes or other unsafe materials.
In 2011, this toy received the Oppenheim Toy Portfolio Platinum Seal Award.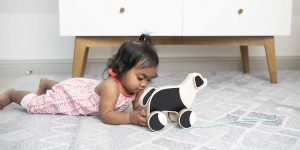 The Lovevery Pull Pup is a portable toy which you can take everywhere to develop your child's dexterity and motor skills. It will be your toddler's best friend as she learns to walk. You can play with it at home, on the floor, rug, or outside in the sidewalk. It is especially designed to be pulled by toddlers.
The Pull Pup is made from FSC-certified sustainably harvested wood and it used water-based finishes. Lovevery's products are also grounded in science and they are intended to assist with your child's development in the best way possible.
Did you enjoy our selection of sustainable push and pull toys for toddlers? If you know about other sustainable pull and push toys, we would love to hear about them.
If you are looking for baby products, you might also enjoy other curated lists such as Top Rated Eco-Friendly Toy Brands on Amazon and Best Eco-Friendly Baby Strollers.
Found this useful? Pin it!