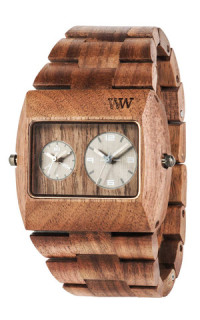 WeWood has some great looking watches. Their designs are eco-friendly and they have this great partnership:
The roots of this company are fantastic. Check out this quote from their site which I think provides a great summary of their watches:

"The brainchild of an Italian watch lover and two eco-smart entrepreneurs, WEWOOD fashions wooden timepieces from mostly scrap-wood and uses state-of-the-art Miyota movements for the guts, a hybrid of technology and nature resulting in a unique watch that's both handsome and earth friendly."
WeWOOD uses recycled and sustainable materials to craft luxury watches, eliminating environmental harm and restoring resources with each watch. WeWOOD watches are crafted with a strong commitment to environmental responsibility. WeWOOD's goal is to restore the environment's resources one tree at a time.
Since 2011, WEWOOD has planted over 420,000 trees with its partners and sets challenging targets for 2015 and beyond. One such challenge is their goal of planting 1 million trees by 2020.
Read more about their story here.