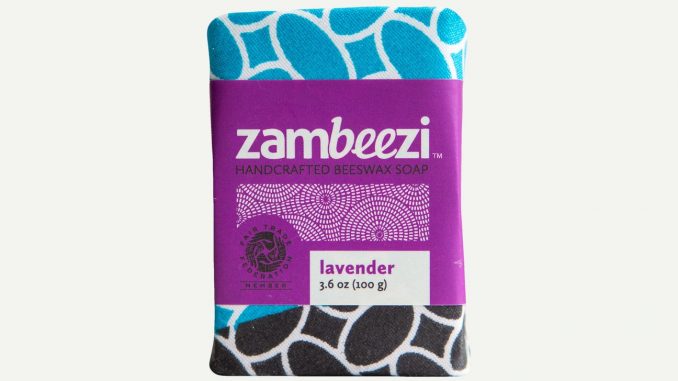 Zambeezi aims to make the best body care products while making positive contributions to local communities. The company creates two organic fair trade products: soap and lip balm.
Zambeezi produces soaps from various essential oils including lavender, lemongrass, cassia, clove, spearmint and sweet basil. All of these ingredients are locally sourced. Although the soaps are handcrafted and travel halfway across the world to reach North American customers, the price point is $6.
The lip balms are also composed of several different organic ingredients ethically sourced from Zambia. There are a few different options from sweet honey balm to tangerine and lemongrass, and also a special sun care lip balm with UVA and UVB rays protection.
Investing in partnerships for a compassionate business model
Zambeezi creates and sells its products by partnering with young African entrepreneurs, beekeepers, and farmers. They connect these entrepreneurs with customers in North America. Zambeezi pays farmers and beekeepers a fair and living wage. 
The company views the young African entrepreneurs as crucial partners, not only to develop business activities but also as important agents of social change. This ideal of cooperation and mutually beneficial business development can be illustrated with a quote from Barry Illunga, a founding Zambian partner of Zaambezi:
"We are told that we should take care of ourselves; carry our own burden. But, we should also help carry one another's burden. Just as much you carry your own burden, you should never forget to carry other people's burdens. You carry your burden and you carry another person's burden. So, that's basically what we are doing right now."
Supporting the community
Providing fair wages to Zambian workers is not the only social focus of Zambeezi. It also invests directly in African communities, using its profits to develop areas that have poor access to essential services.
Zambeezi partners with local churches for several projects, such as building schools or drilling wells. The projects are chosen based on the gaps identified by the communities themselves, thus ensuring they actually meet their needs.
One of their recent projects was building a home for orphaned children. Members of the community will support the home. The Zambian partners who envisioned the project called it "a Village of Refuge".
Saving the Miombo forest
Undoubtedly, one of the most important parts of Zambeezi's work is how it allows communities living in the great Miombo forest in Zambia to have other income-generating alternatives besides working for the timber and mining industries.
By providing an alternative industry respectful of the environment and with fair wages, Zaambezi shows how economic and social development does not have to happen at the expense of environmental sustainability and human rights.
With simple soaps and lip balms, Zaambezi creates positive change for workers and African communities, while representing an alternative globalization business model respectful of the environment. If you are looking for soaps and lip balms, Zaambezi is a great company to support!