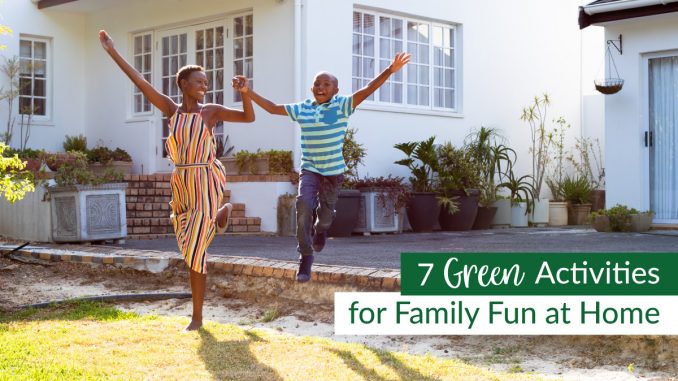 The summer season may look a little different for parents and families this year, but did you know slowing down and staying close to home can have a positive impact on the environment?
Think about it: There are fewer cars on the road, we take more steps on foot, are more mindful of the things we buy and have the time and space for activities with a light footprint. I myself am a father to two young sons and have been using this time with them and around our house near a forest, planting, building, and enjoying.
So if you're staying close, use this opportunity to be positive, get creative, and learn something new together as a family with these green activities you can do at home.
Green Activities for Family Fun
Related read: 7 Eco-Friendly Cleaning Products for Your Bathroom
Go green with your 'green thumb.'
Now's a great time to weed, turn over and clean out your garden plots to teach kids the importance (and amazing-ness) of watching something grow. Vegetables, fruit bushes, flower beds…the possibilities are endless. If you have a safe, fenced-in outdoor space, your child will love unstructured, free time in the sun while you work on the grown-up tasks.
Indoor planting is another opportunity to give big kids responsibility. Have them plant and water easy-to-grow seedlings on a schedule, tracking progress with pictures you can review at the end of the season.
Learn about nature.
With the time at home, help kids connect to something bigger than themselves by learning about local wildlife and finding ways to protect them. Research ways to provide habitat for pollinators and ground-dwelling insects by planting native plants. Inspire patience and wonder by birdwatching in your backyard, or go to the local creek and keep an eye out for foxes.
With support, encourage older kids to start an email or social media chain for neighborhood youngsters, spreading knowledge about local animal populations and what they can plant to save the bees.
Keep recycling the non-recyclable.
Now more than ever, recycling is an eco-activity that lowers your carbon footprint and protects the planet for future generations! The GoGo squeeZ brand of apple sauces and kid-friendly purees makes easy on-the-go snacks that are great to bring outside on adventures, and works with us to ensure all brands of plastic snack pouches can be recycled through our free program.
Just join, collect, and download a prepaid label from your account. Bonus: the more you recycle, the more points you earn in exchange for a cash donation to your kids' school, or your favorite charity or nonprofit organization.
Upcycle with DIY projects using stuff you already have.
Now that you get to spend all this lovely time with your little ones, showering them with attention might bring to mind new toys and other things, so easily purchased online. Instead of buying new, take this opportunity to slow down and do a DIY activity using items you already have. Better yet, make something out of stuff normally tossed in the trash!
Squeezable snack brand GoGo squeeZ also has a range of cool hands-on projects. Want to make a friend for the fireflies? Make this Heli'Cap dragonfly. Looking forward to Halloween? Make this anytime tote. The possibilities are endless with a little imagination.
Play car games on foot.
While the average Canadian child spends less time outside than ever before, consistent time spent in nature has been associated with better school performance, better sleep, more friends, less hyperactivity, and a higher likelihood that they'll grow up to be happy, healthy adults.
Take regular walks, and when possible walk instead of drive to the store or other essential locations. If you need that extra layer of interest to keep it moving, adapt beloved car games reserved for long rides. "I spy with my little eye, something beginning with…"—you know the one!
Dance. Just dance.
This has been a year like no other, and adults are feeling the pressure from mounting social and environmental issues and time spent at home. These have been uncertain times, routines have been disrupted, and parents and students have transitioned to learning online. Children are sensitive to these changes, and experience stress.
Enter "ecstatic dance": the full-body, wiggle-your-limbs-like-the-whole-world-is-watching practice credited with offering physical, emotional, and social well-being through movement. Look it up on Youtube and make it a fam thing—costs nothing, leaves no trace, and adults and children alike stand to benefit.
Do nothing at all…but do it outside.
Being a role model isn't just someone children can look up to — it's someone they can look over and walk alongside on their journey to discovery. In "normal" times, children's schedules are packed to the brim. Show your appreciation for the outdoors and make that the activity.
Choose to do things you enjoy in the outdoors — like a whole lot o' nothing — and allow kids to see you doing the unstructured thing without negative talk or excuses. This allows children to trust in "me time," noting it as a positive, necessary aspect of their routine, now and after this time at home.