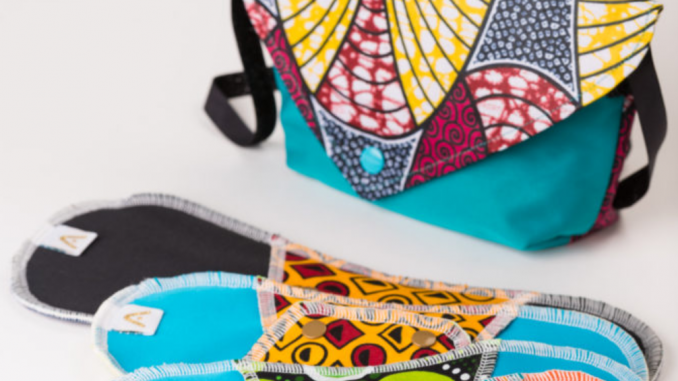 More and more women across the world are looking for ecofriendly and sustainable alternatives to mainstream period products. Thankfully, there is a growing market for these brands. Most of them not only focus on offering excellent products, they also promote reproductive rights and health and fight in equal access to menstruation products. As such, these brands are part of a cultural shift to make women's reproductive health products more accepted and sustainable.
8 Ecofriendly Period Product Brands: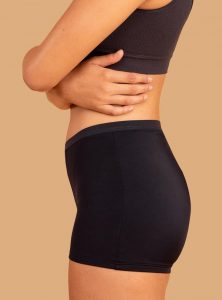 Thinx offers great sustainable period products. They sell reusable menstruation underwear, which comes in different sizes and styles, ensuring most women will be able to find one that works for them. Because this underwear can be washed and used again, it keeps thousands of tampons, pads, and other similar products of being bought and end up in landfills.
Their products are ethically manufactured in Sri Lanka according to three pillars: female leadership, employee well-being and environmental sustainability. Ensuring an excellent workplace for the female workers behind Thinx is a priority for the brand.
Plus, they have specific programs to support marginalized communities, through the GiveRise program. By working with partners from various organizations and countries, Thinx social projects focus on educating young people about their bodies, advocating for equity and ensuring all girls and women have access to menstrual products.
Ecofemme originated in rural India. In India, menstruation health can be problematic. Women struggle to have access to menstruation products. Often, their only choice is either traditional methods or products made from plastic. However, it soon became clear that amount of waste would be an ecological crisis.

Ecofemme emerged as a solution to this problem. Created in 2010, it is a women-led company on a mission to make period products eco-friendly and accessible through their unique pads. Because the pads are made from cloth, they can be washed and reused. They are more comfortable than plastic products and less irritating to the skin.
Following other eco-friendly brands, Ecofemme also promotes social programs. Through Pad for Pad and Pads for Sisters, they share information about menstrual health and make their products accessible to low-income women and girls.
They are also concerned with ensuring an ethical supply chain and you can learn more about the female seamstresses behind the cloth pads on their website.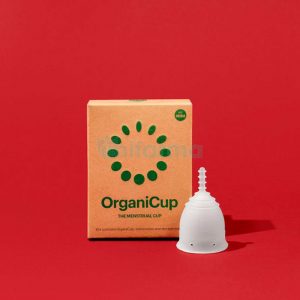 Organic is a sustainable period product brand founded in 2012. It was based on set of core beliefs: no one should be held back by their body; products should not contain harmful chemicals; menstruation should never be a cause of pollution and it should never be a source of shame.
OrganiCup is named after their product: a menstrual cup that can replace tampons and pads. It is manufactured from silicone made in the United States and the cup itself is manufactured in China. The factories they work with are regularly audited and these partnerships have remained the same since 2012. The OrganiCups are also vegan and cruelty-free. They can last several years and although they cannot be recycled, the brand advises clients to dispose of them by burning the cup – it will only produce a minimum amount of C02.
OrganiCup also invest in social impact initiatives to fight period poverty in over 15 countries. So far, they have been able to donate up more than 10,000 cups.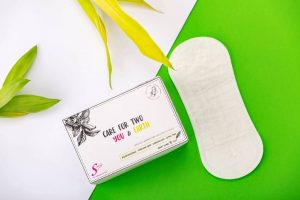 Another brand offering sustainable menstruation products with Indian origins is Saathi. This company was created in 2015 by a group of MIT graduates. Their products also consist of menstrual pads but, unlike others which can be reused, Saathi's are compostable and biodegradable.
Because Saathi's menstrual pads are made from plant-based materials and do not contain chemicals. Therefore, they are more adequate for women with skin irritations or rashes. The banana fibre used in the pads ensures the can degrade within six months – 1200 times faster than the mainstream plastic pads.
The banana fiber is sourced from collectives of local farmers. The creators of Saathi maintain it is a better alternative of cotton-based pads because banana fibers used six times less water per ton to produce. Because banana trees are such a widely available crop, it is also less harmful to the environment and does not require extra land.
Plus, after the banana fiber is extracted, farmers can still use the rest of the plant to produce organic fertilizers. So although Saathi's pads are disposable, they are still extremely eco-friendly and sustainable.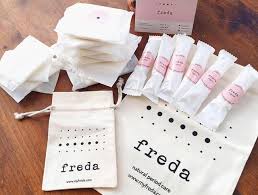 Freda's founder Affi was inspired to create the company after seeing refugees in Europe without any access to menstruation products. This led her to research about menstruation shame and the pollution caused by menstruation products. Then Affi founded Freda.
Freda offers many sustainable menstruation products, but they set themselves apart due to their tampons made from certified organic cotton. Not only are they natural and sustainable sources, but the tampons are also free from chemicals and biodegradable. To ensure full comfort, the products are also hypoallergenic. The products are made in Sweden with renewable energy, assuring a zero-carbon footprint.
Freda also partners with non-profits to make their products accessible to vulnerable communities, including refugees.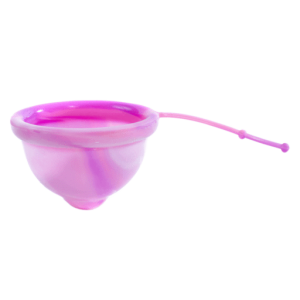 Lumma was created by a Brazilian father and daughter duo. The family already had expertise on quality silicone products, so in 2015 they decided to invest in menstrual cups and discs.
The mission of the company was to create long lasting, safe, and accessible silicone menstrual products. These products should also be environmentally friendly and crafted by experts. As of now, Lumma is unique because it has over 10 sizes of menstrual cups. They are also the only company with three sizes of discs. Lumma's products last about three years, which offsets a lot of pollution from disposable plastic pads and tampons.
The medical-grade silicone used in their products does not have any added or harmful chemicals. Thus, they guarantee a healthier and safer experience than plastic-based menstruation products.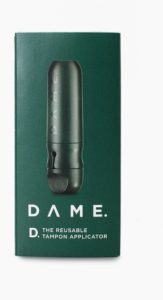 DAME is another company that has branched out to deliver many sustainable period products. They are mostly known due to their reusable tampon applicator. A true innovation, it is manufactured in the UK by medical engineers and has built-in antimicrobial characteristics. These ensure that the applicator remains hygienic.
A reusable applicator can keep up to 12,000 plastic applicators from ending up in landfills. Although it can be used with normal tampons, DAME encourages clients to use their own organic cotton tampons. The tampon wrappers are also biodegradable.
DAME's principles are based on sustainability, accessibility, and acceptability, and it was won many awards in recent years due to their mix of technological innovation and eco-friendly products.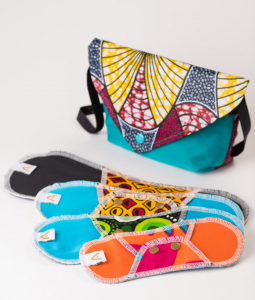 ApiAfrique is an African brand based in Senegal which aims to offer sustainable products for women. Besides menstruation products, they also sell eco-friendly nappies, baby wipes and make-up products.
Their most interesting product is the period starter kit. Marketed as a great present for teenage girls, it features a waterproof shoulder bag with four cotton-based pads, two compartments for clean and used pads, and also a booklet with information about menstrual health.
The pads have different styles, to be used throughout the women's cycle, and can be re-used up to 400 times. They are locally produced in their workshop in workshop in Ngaparou, Senegal.
ApiAfrique also had multiplatform social programs to empower women and girls, with several business partners and collaborations.
Hope you found this article useful. If you have experience with any of these companies or know of other companies that should be on the list, let us know in the comments below.
Like It? Pin It!