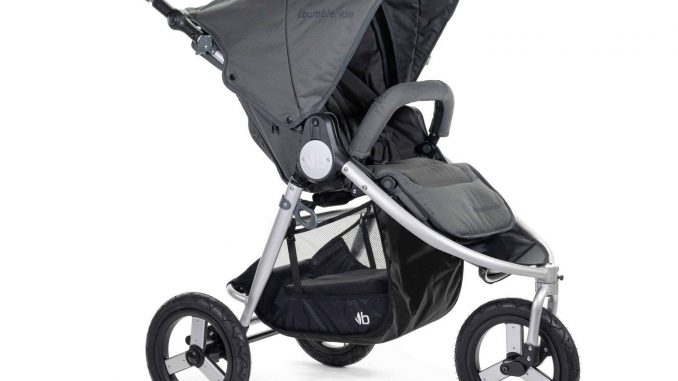 Buying a baby stroller is one of the most important purchases for parents. It is a considerable investment, so parents usually look for strollers that are flexible, durable and safe. Eco-conscious parents will also be looking for sustainable alternatives to mainstream products. This is why we have came up with this list of the best eco-friendly baby strollers!
What makes an eco-friendly baby stroller? The manufacturing process, the materials used and its durability. The products in this list use either recycled or organic materials and rely on manufacturing process that require less water and are toxins free.
Ecoripples is always searching for more eco-friendly alternatives for families, so you can check out our lists on Top Rated Eco-Friendly Toy Brands on Amazon or My Favorite Eco-Friendly Kitchen Utensils from Amazon.
By investing in sustainable innovation, these eco-friendly baby-strollers on Amazon will allow you to have the best time with your kids without adding to your carbon footprint!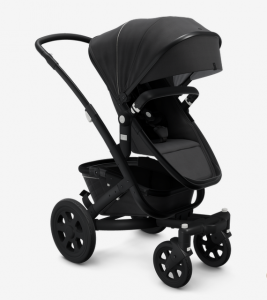 Brand                Joolz
Color                  Customizable (8 colors available)
Material            Recycled Plastic Bottles
Harness type     5 Point
Weight               Around 30 Pounds
Joolz Geo² is one of the most popular eco-friendly baby strollers today. You can fold this all-terain stroller in just one second and each puncture-proof  wheel has its own suspension, which makes it a four-wheel suspension smooth ride at all times. There are three comfortable seated positions possible, always with a supportive backrest and a UPF 50+ sunhood with ventilation. The handlebar can also be adjusted according to the parents.
The stroller is designed to be sustainable and keep up with your growing family, therefore it can be easily extended into a duo stroller by adding a lower cot or a set. This addition does not have in impact on the overall size of the stroller, so it is still quite practical.
It also comes equipped with an extra-large shopping basket, which is also removable. This way, you can carry everything you need with you during the day but it is also easy to take back to the house.
Joolz as a brand is serious about sustainability. They will plant a tree for your child in the Joolz Birth Forest and their fabrics are created from recycled plastic bottles. Plus, their packaging is resusable and you can convert it a lamp, a reindeer or a bird house!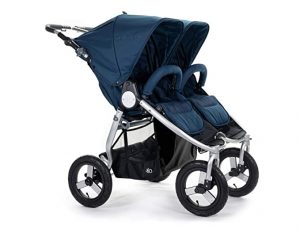 Brand                  Bumbleride
Color                   Maritime Blue and Dawn Grey
Material             Recycled Polyester and Aluminium
Harness type     5 Point
Weight               36 Pounds
Bumbleride is a great brand for eco-friendly baby strollers, featuring a wide selection that can fit any parent's lifestyle and priorities.
We start by presenting you with the Bumbleride Indie Twin All Terrain Stroller, from the 2020 collection. This is a very lightweight sports stroller with can support two babies or toddlers, which you can take anytime, anywhere, and ensure your baby is still safe.
It is only 36 pounds, due to the aluminum frame pairs, the non-fading polyester fabric and four 12" air-filled tires.
The stroller has been conceived for your babies' safety and comfort; therefore it is equipped with a UPF 45+ canopy to protect your babies from sunlight, and it also features a magnetic viewing window. Other features include all wheel suspension, a single lever recline, adjustable footrests and also a PVC free adjustable TPR handle.
To make sure you can protect your babies at all time, the stroller also has a parent wrist strap and a secure footbrake as well as a 5-point breakaway harness. You can be sure of having control over the stroller whenever you need it.
This baby stroller is also a great solution for environmentally conscious parents, because it is made from 100% recycled PET – ensuring the soft texture of each stroller – and it is manufactured through a dyeing process which can save massive amounts of water.
Bumbleride Indie All Terrain Stroller 2020 – Eco Friendly Single Stroller with Canopy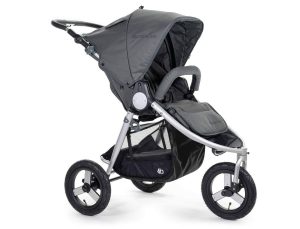 Brand                   Bumbleride
Color                    Dawn Grey
Material               Recycled Polyester and Aluminium
Harness type       5 Point
Weight                24 pounds
This stroller, another great product by Bumbleride, is designed for just one child, from newborn baby to toddler. It is also lightweight, at only around 30 pounds, and it features pockets for storage so you can bring whatever you need with you.  You can also easily adjust it for car seat and you can fold it in just one step, with a gear-assisted auto-locking hinge.
So you can keep control of the stroller at all times, it comes equipped with a parent wrist strap. It also has a secure foot brake, and 5-point breakaway harness.
With all wheel suspension, adjustable footrest, single lever recline and PVC free adjustable TPR handle, it is extremely comfortable. In addition, it also features a canopy which can project your baby from UPF 45+ sunlight and it has a magnetic viewing window.
It is also light-weight, due to the aluminum frame pairs and non-fading polyester fabric. It includes three 12" air-filled tires, and the air pump is included in the price. The stroller is made from 100% recycled PET and it is dyed through a water-friendly innovative process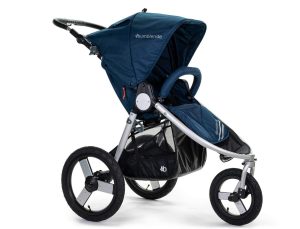 Brand                  Bumbleride
Color                   Maritime Blue
Material             Recycled Polyester and Aluminium
Harness type     5 Point
Weight               26 pounds
This eco-friendly baby stroller is exactly what jogging and sports' enthusiasts are looking for. It has a with Speed-3 wheel swivel steering which can allow to either run, jog, or walk in the company of your baby. This stroller is ready for all weathers and it is extremely lightweight, at only 26 pounds. In addition, the stroller also features aluminum frame pairs and non fading polyester fabric, along with and 3 air filled tires (1×12" in front, 2×16" in rear). As is the case with all of Blumberide's products, they always include the air pump.
Ensuring you can push smoothly, the baby stroller has all wheel suspension, single lever recline, and PVC free adjustable TPR handle. It also features a parent wrist strap, so you can be sure of your child's safety, as well as secure foot brake and a 5-point breakaway harness.
Following Bumbleride's environmental concerns, the texture of each stroller is manufactured from 100% recycled PET. The strollers also undergo a water-saving dying process.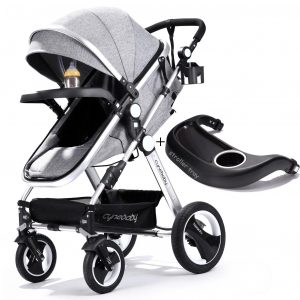 Brand                  Cynebaby
Color                   Gray
Material              Aluminum and linen
Harness type     5 Point
Weight              30 pounds
The first baby stroller featured on our list with is not from Bumbleride, this product by Cynebaby is an elegant alternative to mainstream baby strollers.
This product's priority is the baby's safety- therefore, it has an anti-shock design, which allows the front wheels to absorb shocks, and it ensures a smooth ride on all different types or roads and terrains. Its design has passed the baby stroller's ASTM F833 safety standard test and it is very flexible – its front wheels can either rotate 360° or be locked in a particular position. The stroller also has a 5 point safety harness.
The materials are lightweight, eco-friendly and sustainable. The linen fabrics are resistant and cannot be torn or punctured easily. The anti-rust aluminum alloy stroller frame and 12-inch ax-shaped rear rubber wheels allow for a smooth ride.
Plus, you can adjust the stroller to your baby's comfort. You can easily change the bassinet stroller to a toddler seat;  you can seat your baby in a way to face their parent or the street; and the adjustable canopy allows for more sunshade. Plus, the stroller also had a 175 degree bassinet, semi-recline and seat position.
Brand                  Greentom
Color                   Customizable (3 colors)
Material             Recycled PET Bottles and recycled polypropylene
Harness type     5 Point
Weight               15.4 lbs
This stroller by Greentom is one of the most lightweight strollers available. Suitable for children from six months up to four-years-old, it is free of toxic materials (BPA-, PVC-, and Phthalate-free) with an easy fold system and a removable safety bar. It is the perfect stroller to take your kids on an eco-friendly and comfortable ride, with three possible seat positions and an extendable canopy. It also has an excellent UPF rating to protect your children from sun rays.
Greentom uses eco-friendly to manufacture the strollers – plastic waste flakes are the raw material for the frame and drinking bottles flakes are transformed into yarn for seat fabric. To make sure the stroller will last for a long time, you can sign up for a lifetime warranty for your stroller's frame.
These are our selections for some of the best eco-friendly baby strollers. If you know about more excellent products, please let us know your experience! If you are an eco-friendly brand of baby strollers, we would also love to know your work.
Found it Useful? Pin It!