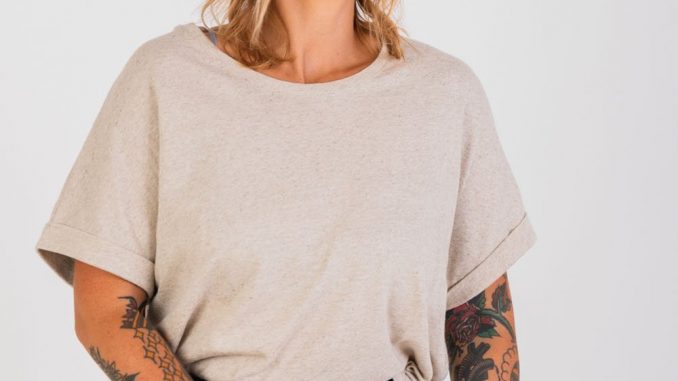 Näz is a Portuguese sustainable fashion brand created in 2016. Led by three women, its approach is based on circular economy principles. By partnering with small-scale Portuguese factories, Näz produces fantastic, recycled clothing. The name Näz stems from Urdu. It means the pride of knowing you are loved, because, according to the team "We believe that when wearing a Näz piece you can feel the love, of the ones who created it, from fiber to design".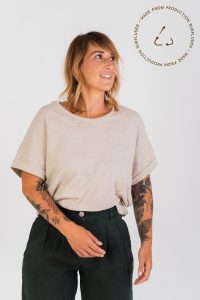 A pragmatic approach to sustainable fashion
For Näz, every clothing item has an environmental cost. The goal is to try to reduce it as much as possible. Cristina, the founder and designer, decided to create her own brand after finishing her studies in fashion. In her own words, "she understood that she didn't want to work for an industry so dirty and based on social exploitation".
Näz understands sustainability as striking a balance between social, environmental, and economic dimensions. As such, their approach tries to incorporate these three pillars, "always looking for less environmental footprint, a positive social impact and also a balanced price, fair for our partners, for us and for you".
The goal is not to compete with fast fashion brands at discount prices. For Näz, providing a sustainable slow fashion option with an ethical supply chain is more than enough.
Democratic sustainable fashion from quality textiles
Näz does not intend to be a high-end fashion brand. The style of the clothing is relaxed, minimalist, and carefree. These are the kinds of clothes that can be worn by anyone, anywhere. From jumpsuits to sneakers, Näz offers a unique style for each item, for both women and men.
There are two main ecological materials: linen (weaved in Portugal) and lyocell. Both require a lot less water to produce than cotton, including organic cotton. Besides these two materials, Näz clothing is produced with recycled wool, cotton, and polyester. By using deadstock, Näz ensures items from recycled materials are much less pollutant to produce.
Valuing the "hundreds of hands" behind a garment
Näz makes sure to recognize the labor of the small-scale companies that produce the items. From factories with over 1,000 workers to workshops with only 7 dedicated professionals, Näz harnesses the potential of Portuguese textile production.
Portugal is already a world leader in the textile industry. Näz uses either the deadstock of textile factories to produce recycled clothing or turns to their partners for ecological textiles. By working with local companies, Näz promotes social integration and supports small companies.
Being transparent about sustainable fashion costs
People are often surprised by the cost of sustainable fashion. Näz ensures all its customers understand why their items are more expensive than fast-fashion clothing. By breaking down the cost, Näz is transparent about why the final retail price is almost three times the initial cost of production. This way, customers know what they paid for.
Caring for sustainable clothing
Näz makes sure to offer clear instructions for their clothing to last as long as possible. It also advises their customers to give away items so they can have a new life with someone else. Or, if it is not possible, to re-use them as cloths or anything else. The goal is to not throw anything away!
Näz is currently looking for stores to sell their products. It also understand the constraints of smaller shops in ordering large quantities. You can reach them at wholesale@naz.pt.