Sprout is another company with Eco-friendly ambitions at its core. The company sets out to make the most eco-forward watches available.  Sprout Watches set out to create an eco-forward lifestyle brand which utilizes the highest quality materials while striving to protect the Earth's natural resources.
The Sprout corporate website highlights all the materials they use in their products.  These materials include biodegradable corn resin, bamboo, cork, and organic cotton.  For a complete list of materials that are used, refer to the eco-facts section of their site.  Two of the elements that I wondered about from a sustainability perspective were the mother of pearl and the Swarovski crystal.
Sprout defines the eco-facts of these elements as the following:
"Natural Mother of Pearl – Our Mother of Pearl watches are all declared through the Dept. of Fish & Wildlife in the U.S. and will never be from forbidden or endangered species.
Swarovski Crystals – Sprout Watches is proud to offer models using Swarovski's new ADVANCED CRYSTAL TECHNOLOGY, the new DNA of Crystal, which is a patented, lead-free formula using only carefully selected raw materials that are in compliance with all international standards.  Researched and developed for more than 10 years, this major technological breakthrough in the ADVANCED CRYSTAL offers unsurpassed brilliance with the highest precision, quality, and clarity for flawless beauty."
We were browsing through the sprout catalog of watches.
Here are a few of their eco-friendly watches and their features: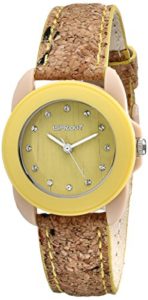 Women's Swarovski Crystal-Accented Yellow Cork Strap Watch
Some of the environmental features of this watch are:
Featuring a tan corn resin case and buckle;
Lemon yellow bamboo dial with 12 clear lead-free Swarovski crystal markers;
Natural cork strap with organic cotton backing and yellow stitching, and a mineral crystal lens.
Sprout Women's Light Green Organic Cotton Strap Watch
Some of the environmental features of this watch are:
White corn resin case and light green bezel;

Mother-of-Pearl dial with tree motif; and,


Light green organic cotton strap with corn resin buckle.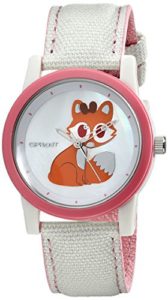 Accented Fox Watch
Some of the environmental features of this watch are:
38mm round white corn resin case and pink bezel;

Mother-of-pearl dial with orange fox graphic;

Fox's eyes accented with 2 clear lead-free Swarovski crystals; and


Light beige organic cotton strap with pink stitching, backing, and sides.
We love the idea of Sprout eco-friendly watches. This company really pays attention to the materials that go into their products.
Do you have a Sprout watch? Let us know what you think of these watches in the comments below!
For information about Eco-Friendly Clothing, you can check out this article.