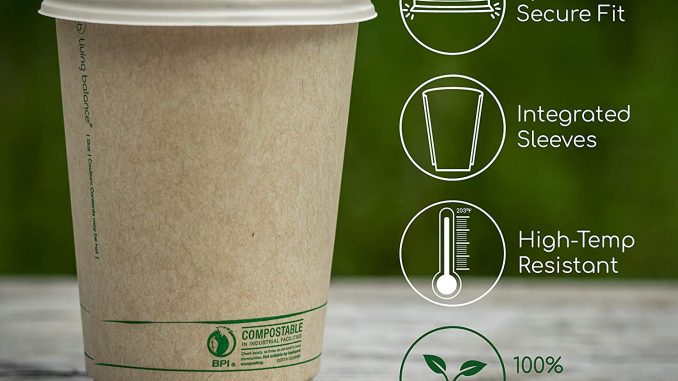 Why Should you use a Biodegradable Glass?
Think about it, we're always drinking out of cups. Whether it be your morning coffee you pick up in the morning on the way to the office, or a refreshing quenching drink you consume after a workout. Have you thought about doing it out of biodegradable glasses? Cups are everywhere and it's a big problem. Especially if they're all made of plastic. So how do we stop this? It's easy to do and there are plenty of options on the market now offering biodegradable cups that are a little more friendly to the environment. Did you know that plastic cups are the most common pollutants that we toss into the ocean and as a result, damage our environment?
One of the biggest concerns with using biodegradable cups is the worry that they lack quality when it comes to holding drinks for long periods of time. But it is possible to use eco-friendly products without compromising on quality. We've collected our top five biodegradable drinking glasses that are guaranteed to sort you out for anything you might need. Whether that be an eco-friendly picnic in the park with friends or perhaps to serve a summer punch at a garden BBQ with the family. We've got a wide selection of options to suit you all.
What Does it Mean to be Biodegradable?
We've already highlighted the importance of biodegradable packing here. The definition of biodegradable is that it can be broken down by natural organisms. This means that once the material has broken down, it should leave behind absolutely nothing aside from;
Carbon
Water
Natural occurring minerals
Plastic leaves behind little pieces of microplastic once they have decomposed. This is the very thing that is damaging our environment. So it's important to consider biodegradable products in as many ways as possible to lessen our impact on the planet. Glass, unfortunately, is not biodegradable. So how do we avoid this in our consumption? We've got some great solutions for you below!
How to Pick a Good Biodegradable Glass
There are certain features you should always look out for when picking a biodegradable glass and we've considered all of these in our expert selection.
Durability – Making sure that it's easy to hold and leak-proof. There's nothing worse than a cup that doesn't keep your drink warm or cold! Our suggestions are vetted in considering this.
No plastic or harsh chemicals – good for you and for the planet!
Smart design – If you're buying in bulk it's important to make sure that these are stackable and with a smart design. We've got you sorted in our selection.
Our Top Biodegradable Glasses for your Drinks!
100% Compostable Plant-Based Clear Cold Cups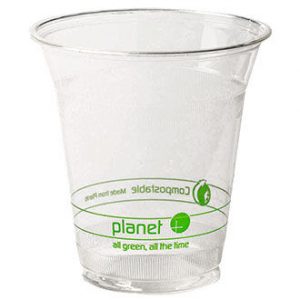 Image taken from Greenpaperproducts.com
If you want a disposable cup that's also compostable without the paper quality, then this is a great solution. It's a great option for holding cold drinks as they generate much less CO2 than plastic cups. These cups are BPA free which means they are not made with any petroleum products. In fact, the cups are made with vegetable-based ink which is great as you avoid that plastic-like chemical taste that sometimes comes with plastic cups.
If you're looking for a sustainable solution in mass quantities, you can purchase these cups on Amazon in 50 piece packs. It takes around 90 days for the cups to be composted. It's a great solution for a party as you don't have to worry about the cups impacting the environment.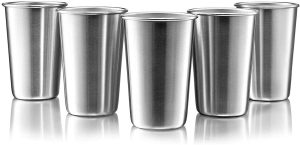 Image taken from Amazon.com
Not the usual sort of material you would associate with a drinking cup… But stainless steel is a great solution if you are looking to cut down on plastic and offer a more environmentally friendly solution to a drinking cup. Stainless steel does not impact the environment as they are reusable and do not leak out harsh chemicals you find in most plastics.
Most stainless steel cup sets you can find online are BPA-free and food-safe. It's a great solution for families looking for equipment to take on picnics or camping. Another great element is that they retain temperatures (both hot and cold) for a longer period of time. So it's great for refreshing summer evening sipping!
Compostable Disposable Coffee Cups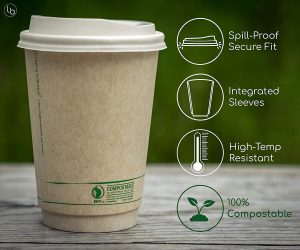 Image taken from Amazon.com
We all need a hot drink to help us through the colder months. If you're hosting a little event or perhaps you have a coffee shop that you're looking to upgrade on its sustainability practices, then compostable disposable coffee cups are an absolute must. When you're hunting for disposable coffee cups, make sure you keep an eye out for the BPI signature (Biodegradable Products Institute). This highlights all materials are plant-based and do not contain petrochemical-based products. It's important to make sure you check the lid is compostable too. Some companies miss out on this part and just hand you the cups instead. But you need both elements in order to sip some good coffee!
A great example is this one here. It comes in packs of 75 and holds 16 ounces of liquid. The lids have a spill-proof design which is perfect for those looking for a solution for sustainable coffee on the go. The material is temperature-resistant too and this set even comes with sustainable stirring sticks for those looking for a little additional sweetness on the go too!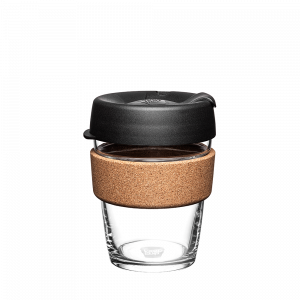 Image taken from Keepcup.com
Okay, so we know this isn't a biodegradable suggestion, but it's a great way to be more conscious about your consumption! If you just want to buy once, but buy well, then a reusable keep cup is a great solution to reducing plastic consumption. Most come with splashproof press-fit lids making consumption on the go a breeze. They're easy to look after too, free of BPA, BPS, phthalates, and lead and cadmium.
Keep Cup was the first of its kind in this market and to have a Barista standard classification. If you're looking for a sustainable solution to your coffee consumption, then this is a great option for you. Bt they also have lots of different sizes to suit all needs. You're doing good by purchasing from them too. 1% sales go toward protecting the environment with donations toward social and environmental enterprises.
So now you've got the expert selection of biodegradable glasses you can be more sustainable in your drink consumption no matter what the scenario! If you know any more useful products feel free to share with us in the comments below!